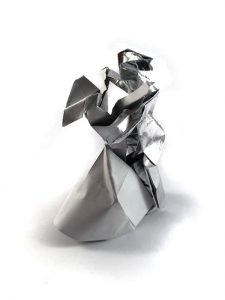 I grew up with six brothers. That's how I learned to dance – waiting for the bathroom!
Bob Hope
About The Last Waltz
Difficulty: Intermediate
Time to fold: About an hour
Paper: Medium thickness, two colour.  Gift wrap paper is good.
Note: This post contains affiliate links.  See Disclosure below for more information.
The Last Waltz by Neal Elias is another of my favourite models.  It looks quite dated by today's standards of highly detailed complex origami design, but arguably it still holds its own as one of the most beautiful, graceful origami designs ever made. It has a real sense of story to it and the title 'The Last Waltz' sums it up perfectly. You can almost hear the music playing. Elias designed several models of couples dancing and to me, this is the best of them all.
Although the model is called 'The Last Waltz', it could just as easily have been titled 'First Dance'.  I have known several people give this to friends who are getting married.
Folding The Last Waltz
Paper choice is important for this design. It is made from a single 3×1 rectangle of paper, coloured differently on each side, which provides the contrast between the male and female figures. Thick paper should be avoided as there are several layers around the middle which may not be easy to fold and shape neatly if the paper is too thick.  Really thin paper probably isn't a great idea either. 
This one is made from silver gift wrap paper. A piece of paper about 45cm x 15cm (18in x 6 in) produces a model approximately 10cm (4in) tall.
Although The Last Waltz looks difficult to fold it is actually surprisingly simple, although it does require a reasonable degree of accuracy. Anybody that can manage simple origami steps such as reverse folds should be able to complete this model with some care, and I'd encourage everybody to try.
If you enjoyed folding this model, you should also try Neal Elias's Siesta.
Diagrams for The Last Waltz
The British Origami Society holds the copyright for Elias's works.  The diagrams for the Last Waltz are in the book The Origami of Neal Elias which I bought at the BOS Convention.   This book also includes the diagrams for Elias's model of The Thinker, the Boy on a Rocking Horse, and Andres Segovia.
I will write a review of this book soon, but for now I'll just say thank-you to Dave Venables for the many hours of dedication in putting this book together.  This is destined to be a 'must-have' for anyone that enjoys folding paper.
  You can get the book on Amazon here.
With the permission of the BOS, Sara Adams has produced an excellent set of videos explaining how to fold this model in about an hour. These are available, free of charge, on her YouTube channel.
Get Involved
I'd love to hear your views on this. Feel free to let me know what you think in the comments below, or you find can me on Instagram or Twitter. Check out my Pinterest boards too!
You can also subscribe to the mailing list by entering your email in the box below:
Disclosure: This post contains affiliate links. This means we will receive a small commission for some purchases made using links in our blog with no additional cost to you. Please be assured we would not promote any product unless we believe that our readers will also benefit. The commission does not influence the editorial content of this site.
Origami Expressions is a participant in the Amazon Services LLC Associates Program, an affiliate advertising program designed to provide a means for sites to earn advertising fees by advertising and linking to amazon.com, amazon.co.uk, amazon.ca. Amazon and the Amazon logo are trademarks of Amazon.com, Inc. or its affiliates.