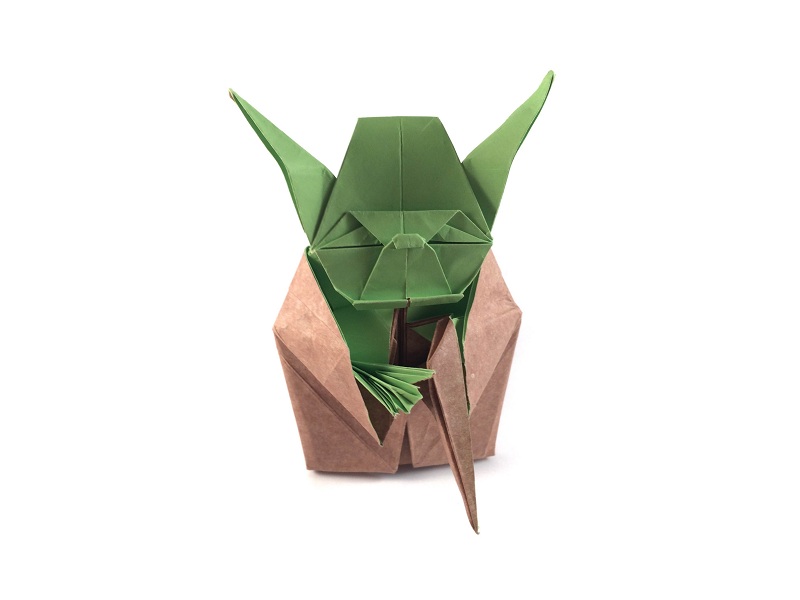 This is the first post celebrating World Origami Days 2015 – Origami Yoda by Fumiaki Kawahata.
Do, or do not.  There is no try.
Yoda, Star Wars: The Empire Strikes Back
One of the most famous characters in movie history, famous well beyond the science fiction film genre, Yoda is instantly recognisable, and very popular! There are a number of origami Yoda models out there, but this is by far the best.  It was designed by Fumiaki Kawahata.
Origami Yoda Instructions
Jo Nakashima has an excellent video showing how to fold the origami Yoda.  If you prefer diagrams can be found in the British Origami Society Spring 1998 Convention Pack, available from BOS Supplies.
This is an intermediate to complex model.  It is reasonably flexible when it comes to paper choice, and you can make it out of standard 15 x 15 cm kami.  I prefer a slightly larger piece of paper for this, so I chose to use 24 x 24cm green kami, backed with brown tissue paper to make it the right colours.  I also thought this meant Yoda's cloak had a slightly better textured look.
I really like this origami Yoda model and would recommend anyone that wants to should give it a go.  If you are a Star Wars fan, you might also enjoy this Darth Vader model.
Thanks for reading.  Check back tomorrow for the next WOD post
Get Involved
I'd love to hear your views on this origami Yoda model.  Feel free to let me know what you think in the comments below, or you find can me on Instagram or Twitter. Check out my Pinterest boards too!
You can also subscribe to the mailing list by entering your email in the box below: