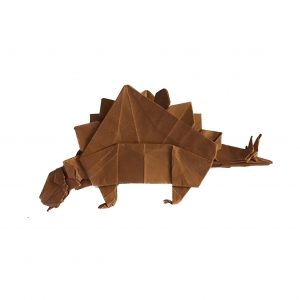 You're not allowed to call them dinosaurs any more…. It's speciesist. You have to call them pre-petroleum persons.
Terry Pratchett, 'Johnny and the bomb'
About the Origami Stegosaurus
I was checking back through the models I've featured on this blog the other day and realised that I hadn't included anything by John Montroll. I decided this was something of an oversight since he is one of the most famous and prolific origami designers & authors out there. 
Montroll has designed some of the best origami animals (like this origami flamingo) and dinosaurs I know of. His style is characterised by strong lines that focus more on efficient representation than extensive detail. As a result, some of Montroll's designs can be a lot more complex to fold than they appear. This is certainly the case with this Stegosaurus! It is obvious from the number of plates on the back of the Stegosaurus that it's not a simple model, but I'm not sure it has the 'wow, that must be really hard' look of Kamiya's Pegasus or Joisel's dwarf.
Note: This post contains affiliate links.  See Disclosure below for more information.
I'm reasonably pleased with this origami stegosaurus model. I haven't got the eyes quite right, but I like the shape of the Stegosaurus's head. By angling the head down a bit I think I've given the model a bit of emotion and character. It looks slightly sad. I varied the look of the tail a bit by including one less plate on the end of the Stegosaurus's back as I thought the tail got lost in Montroll's original design, and by raising the tail a touch, it emphasises the angle of the head.
John Montroll does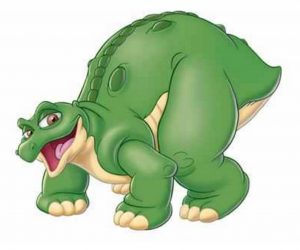 n't give his Stegosaurus model a name, but I've called this one Sophie, after the most complete Stegosaurus skeleton ever found (85% intact), which is on display at the Natural History Museum in London. I thought about calling it Spike, after the character in the animated film Land before Time, but I prefer the name Sophie.
You might also enjoy folding these origami dinosaurs.
Folding the Origami Stegosaurus
This is not an easy model to fold! I class this as high intermed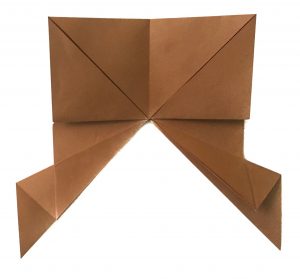 iate to complex. Origami models of this difficulty always require very accurate folding and attention to detail to make sure the final result is as polished as possible. There are a couple of steps in the folding sequence that call for some points to be partially sunk inside the model. I would expect this model to take about 45 minutes to fold on the first attempt, dropping to about half an hour as you become familiar with the folding process.
I have folded this one out of a 35cm x 35cm (about 14in x 14in) sheet of Tant Paper, bought from Origami-Shop.com. This paper holds a crease well and is a good thickness for this model. This size paper produces a finished Origami Stegosaurus that is approximately 17cm (6.5in) long from end to end.
If you are looking for an easier Montroll model to fold, try the origami angelfish.
Origami Stegosaurus Instructions
Montroll's Origami Stegosaurus diagrams are available in several places.  As well as the instructions for this model, Montroll's book Prehistoric Origami: Dinosaurs and Other Creatures
contains diagrams for an interesting selection of other origami dinosaur and pterosaur designs.
This Origami Stegosaurus model can also be found in Origami for the Connoisseur
by Konihiko Kasahara and Toshie Takahama.  This book has a range of origami models from many different designers – including one of the most famous modern origami designs, the Kawasaki Rose.
Sara Adams has a video tutorial for this model on her website, www.happyfolding.com. This is one of Sara's early ones, created before she had refined her style to the quality that she has achieved with her later video tutorials. Although she explains each step very well, it can sometimes be difficult to see what she is explaining in each step. The video is still good and I would recommend using it, but I hesitate to suggest relying on it as the only resource.  Even people who prefer folding from videos rather than books may benefit from keeping a copy of Montroll's diagrams to hand.
Get Involved
I'd love to hear your views on this origami stegosaurus or other origami dinosaur models. Feel free to let me know what you think in the comments below, or you find can me on Instagram or Twitter. Check out my Pinterest boards too!
You can also subscribe to the mailing list by entering your email in the box below:
Disclosure: This post contains affiliate links. This means we will receive a small commission for some purchases made using links in our blog with no additional cost to you. Please be assured we would not promote any product unless we believe that our readers will also benefit. The commission does not influence the editorial content of this site.
Origami Expressions is a participant in the Amazon Services LLC Associates Program, an affiliate advertising program designed to provide a means for sites to earn advertising fees by advertising and linking to amazon.com, amazon.co.uk, amazon.ca. Amazon and the Amazon logo are trademarks of Amazon.com, Inc. or its affiliates.