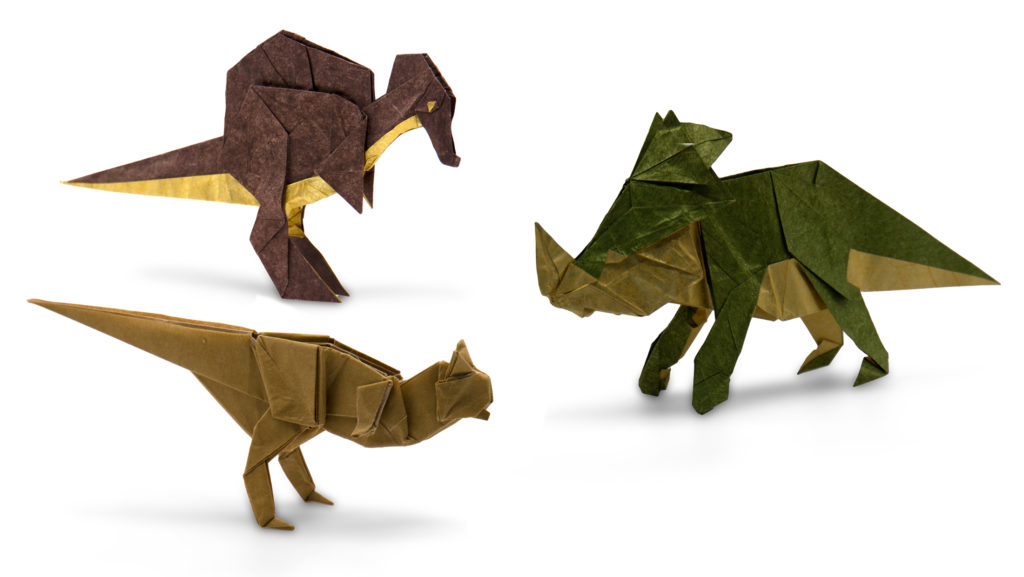 "Open the door, get on the floor
Everybody walk the dinosaur"
-Was (Not Was)
Jumping on a dinosaur-shaped bandwagon
Here in Norwich, UK there is a bit of a dinosaur theme going on this summer. Dippy, the replica diplodocus from The Natural History Museum in London, is on tour and is on display in Norwich Cathedral until October.
Note: This post contains affiliate links.  Please see disclosure for more information.
As well as Dippy's summer sabbatical, there are 21 brightly painted Tyrannosaurus Rex sculptures dotted around the city. These make up this year's GoGo Discover Dinosaur Trail organized in aid of Break – a charity that supports children in care.
A few shops and gallery spaces have decided to get in on the dinosaur action, so I thought I'd join them. It's been ages since I posted about a dinosaur model. Yes I know it's been quite a long time since I posted about anything at all, but that's not the point. I've only featured one dinosaur model before – a Stegosaurus by John Montroll – and that was five years ago! Time for a few more.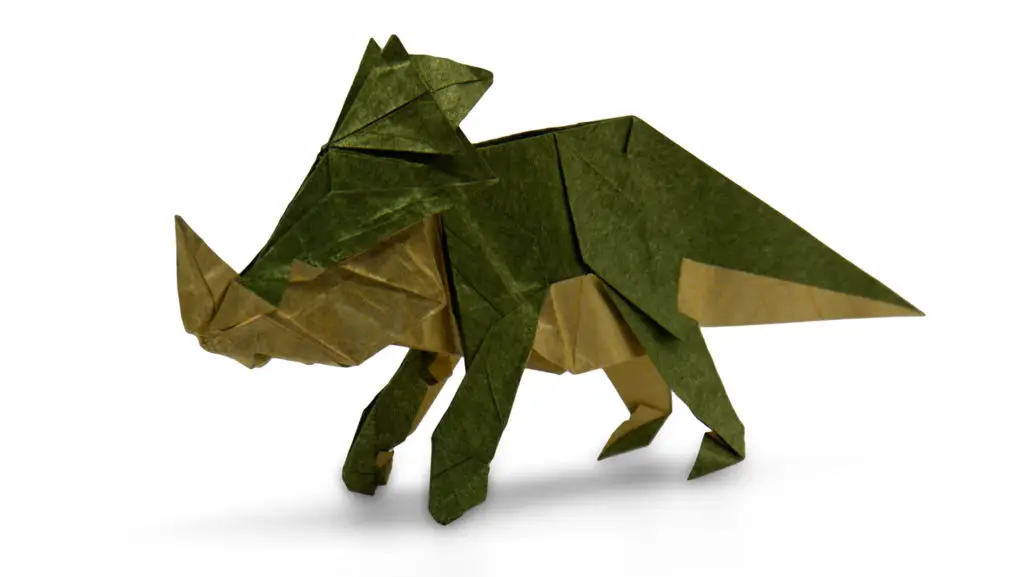 Three dinosaurs, two creators, one folder
There is a huge range of origami dinosaur models available, and these are three of my favourites. The Styracosaurus (the four legged one) and the Spinosaurus (the one with the ridge on its back) were both designed by Chen Xiao, and the Carnotaurus is by Satoshi Kamiya.  There are several T-Rex models and Triceratops designs, but I like these as they are a little bit more unusual. I particularly like the Styracosaurus as it is more three-dimensional than the other two models, which gives it more of a sense of character. I folded all three.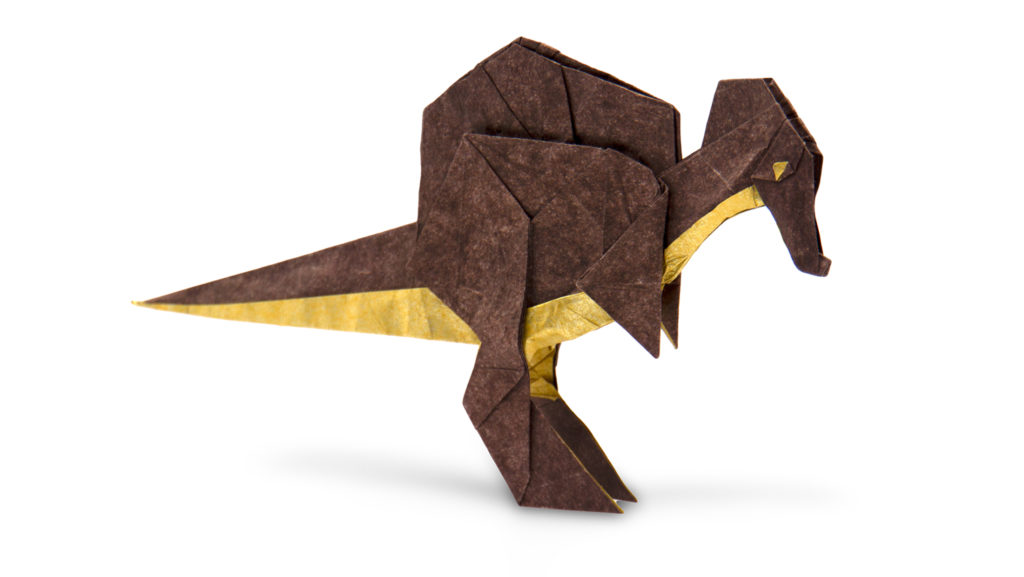 Chen Xiao's models are much more recent creations than Kamiya's. The Spinosaurus is a 2017 design, and the Styracosaurus dates from 2019. Kamiya has said that the Carnotaurus was his first real attempt at designing intentionally, rather than just trial and error, back in 1995.
If you like Chen Xiao's style of design, check out my blog posts on his series of origami girls and his origami husky.  I have also written about Kamiya's Pegasus.
Folding the dinosaurs
All three of these are complex models, and not suitable for the beginner. They need accuracy, and familiarity with techniques like colour-changes and both open and closed sinks. The end result is worth it though for all three. They all take some time to fold. I did them all in stages over several days so I couldn't say how long each one took me precisely, but I'd say they all took two or three hours to do.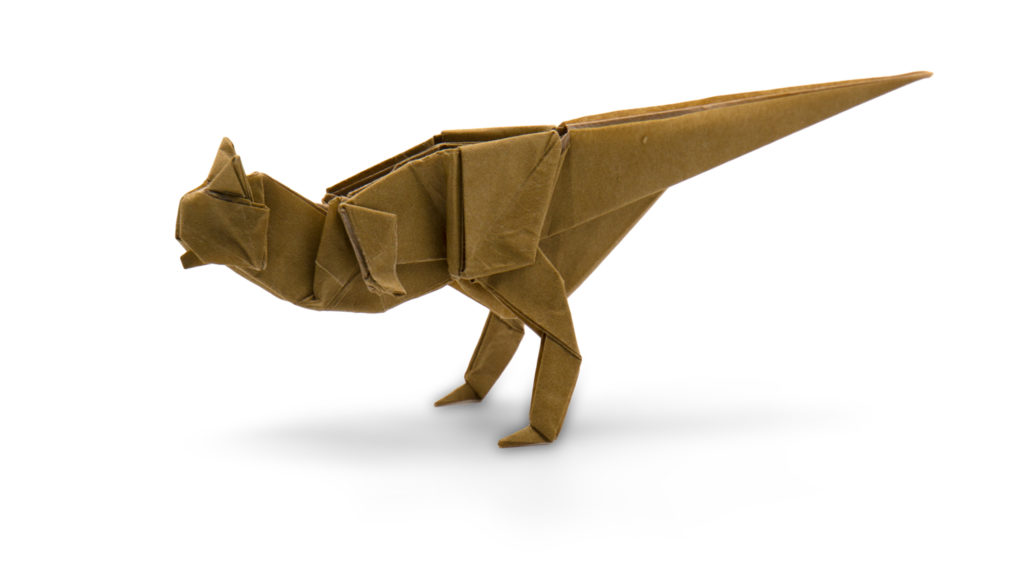 The Spinosaurus uses a sheet of 23cm x 23cm (about 9in x 9in) foil sandwich paper, and the final model is 16cm (approx. 6.25in) from nose to tail and stands 9cm (3.5in) tall. The Styracosaurus is slightly more complex. It is made from a 35cm x 35cm (around 13.75in square) sheet of the same foil sandwich paper, and comes out a similar size. The finished model is 19cm (7.5in) long and 10cm (4in) in height. The Carnotaurus is made from a 30cm x 30cm (12in x 12in) sheet of tissue foil and the final model is the same length as the Spinosaurus (16cm), and stands 7cm (a little under 3in) tall.
All these papers are available from the Origami-Shop.com
Folding Instructions for the Three Dinosaurs
Kamiya's Carnotaurus is the first model in his book Works of Satoshi Kamiya 1995-2003. Both of the Chen Xiao dinosaurs are available in his book Amazing Origami. Both of these books are only available from Origami-Shop.com.
I will be reviewing both of these books at some point, so keep an eye on this site for those.  Hopefully I'll get at least one of these book reviews done before Dippy leaves the Cathedral.
Get Involved
I'd love to hear your views on these origami dinosaurs.  What is your favourite origami dinosaur model? Feel free to let me know what you think in the comments below, or you find can me on Instagram, Facebook, or Twitter. Check out my Pinterest boards too!
You can also subscribe to the mailing list by entering your email in the box below:
Disclosure:
This page contains affiliate links and I may receive some small commission for purchases made through the links on this page. This hasn't affected my decision to recommend a product – I value my personal and professional reputation and would not endorse a product or supplier I did not believe in. There is no additional cost to you for purchasing through this page.
As an Amazon Associate, I earn from qualifying purchases.  Origami Expressions is a participant in the Amazon Services LLC Associates Program, an affiliate advertising program designed to provide a means for sites to earn advertising fees by advertising and linking to amazon.com, amazon.co.uk, amazon.ca. Amazon and the Amazon logo are trademarks of Amazon.com, Inc. or its affiliates.