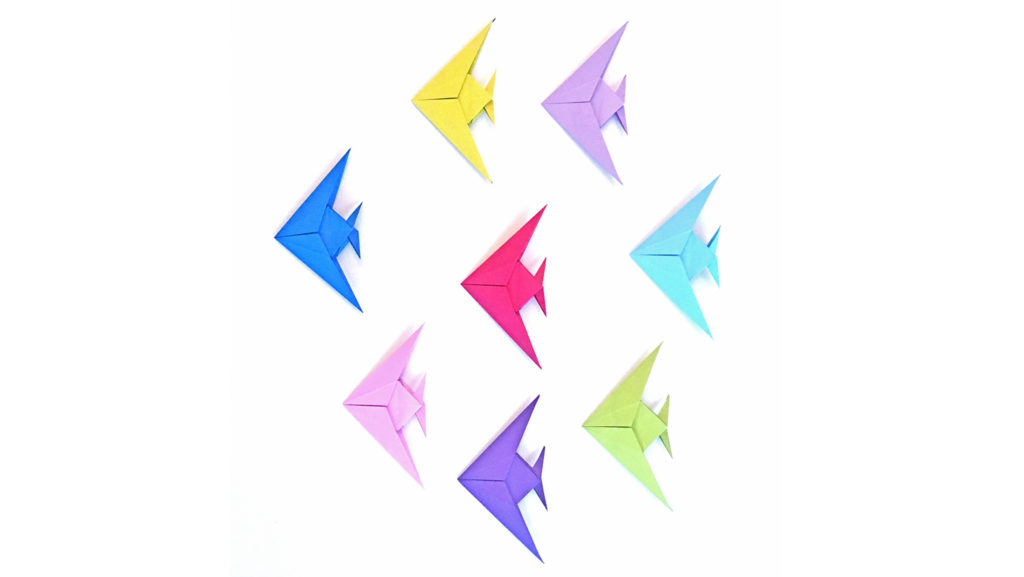 "Give a man a fish and he will eat for a day. Teach him how to fish, and he will sit in a boat and drink beer all day."
-George Carlin
Welcome Back!
In my head, there is a tumultuous crowd cheering with delight right about now at the appearance of this blog post.
"Welcome back". They say. "We've missed you.  We wondered where you'd gone". The murmuring of voices builds to a crescendo of anticipation, wondering what model it will be this time, and whether there will be a link to instructions. The online equivalent of the backstage door, thronged with people eager to find out what comes next. Ok, so that's a little far fetched. The truth is probably somewhat more muted and I'm not that messianic, but it's good to publish something for the first time in ages.
So where have I been? I've been working on designing my own stuff.  If you've got an image in your head of someone slightly crazed, sitting in a partly darkened room, surrounded by screwed up bits of paper, half-folded bases and cold cups of coffee, you're not too far away.  More on that to come if I can ever get my ideas to work, but for now, let's focus on this origami angelfish.
Note: As an Amazon Associate, I earn from qualifying purchases.  See disclosure for more information.
About the Origami Angelfish
It's a design by John Montroll.  It's quite an old design and should probably count as a classic these days.  It is simple, bold and iconic. I have said before now that I prefer origami designs that have a 'clean' look, and that's definitely the case here. I have seen several examples of Montroll's Origami Angelfish made into children's mobiles.  This is a personal favourite, and frankly, I'm amazed it's taken me this long to feature it here!
If you are interested in more origami designs by Montroll, I have also written about the origami flamingo and the origami stegosaurus.
So what does an Origami Angelfish have to do with Christmas?
Every year, OrigamiUSA put up the Origami Holiday Tree in the American Museum of Natural History in New York.  It's a fantastic display of origami models on a tree, with a different take on the theme of the natural world every year.  Apparently it's the most visited tree in New York after the one at the Rockefeller Center, and the tradition has been going for over 45 years. If you're in the area, it's worth a look.  Have a read about my own visit to see the OrigamiUSA Holiday Tree.
At the tree lighting ceremony, OrigamiUSA gives away models folded by the members. This year's chosen design is John Montroll's Angelfish.
Folding the Origami Angelfish
My usual yardstick of what constitutes a simple model is the traditional origami crane.  That's one of the first models that people usually learn to fold. Like the crane, this is formed from a Bird Base, so if you can fold one of those, you can make this.
Any paper will do.  A standard bit of 15cm x 15cm (6in x 6in) origami paper will produce an angelfish that is 15cm tall, and 7.5cm long.  Those dimensions of a finished model from that size paper should be telling you that there are not that many folds in this model! You'd be right. This should take no more than ten minutes to make, and probably closer to five.
Click here to order more origami paper.
Origami Angelfish Instructions
Diagrams for this model are available in the book Animal Origami for the Enthusiast.  I highly recommend this book. It provides an interesting series of models of varying degrees of complexity, from one of the most prolific origami designers in the world.
Click here to check price and availability of the book on Amazon.
If you're an OrigamiUSA member, then you will probably have received a set of instructions and a request to send one or more origami angelfish for distribution at the Tree Lighting Ceremony. You'll need to hurry up though! They need to arrive no later than 22 October 2018. By the time you read this, the ones in the picture will already be on their way to New York.
If you're not an OrigamiUSA member and you don't want to get the book, you could always go along to the Tree Lighting Ceremony. More details will be on the OrigamiUSA website.
Just remember: a fish is for life, not just for Christmas.
Get Involved
I'd love to hear your views on this origami angelfish.  Feel free to let me know what you think in the comments below, or you find can me on Instagram or Twitter. Check out my Pinterest boards too!
You can also subscribe to the mailing list by entering your email in the box below:
Disclosure
This page contains affiliate links and I may receive some small commission for purchases made through the links on this page. This hasn't affected my decision to recommend a product – I value my personal and professional reputation and would not endorse a product or supplier I did not believe in. There is no additional cost to you for purchasing through this page.
Origami Expressions is a participant in the Amazon Services LLC Associates Program, an affiliate advertising program designed to provide a means for sites to earn advertising fees by advertising and linking to amazon.com, amazon.co.uk, amazon.ca. Amazon and the Amazon logo are trademarks of Amazon.com, Inc. or its affiliates.