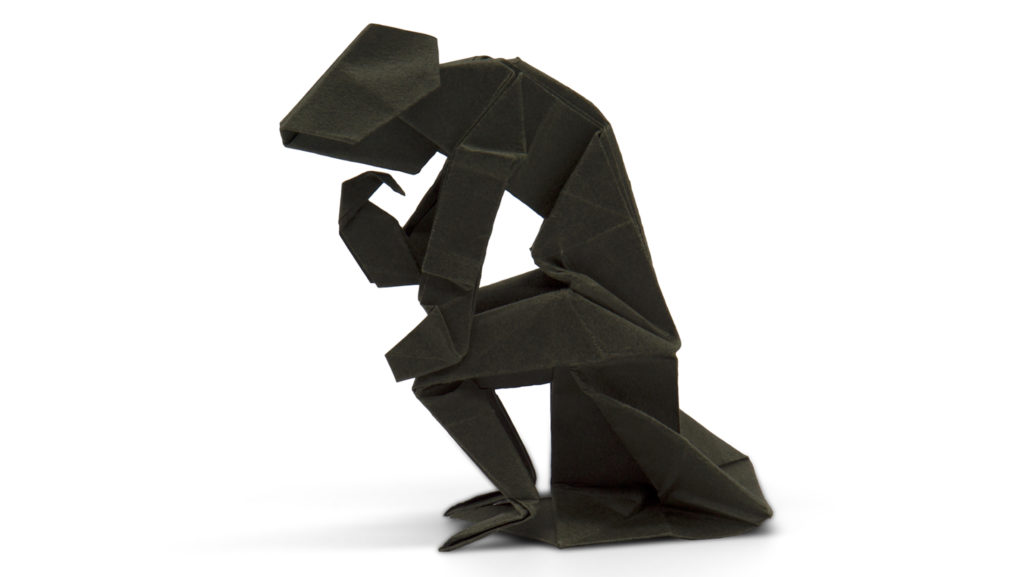 "Trin Tragula – for that was his name – was a dreamer, a thinker, a speculative philosopher or, as his wife would have it, an idiot."-Douglas Adams, The Hitch-hiker's Guide to the Galaxy
The Thinker by Auguste Rodin may be one of the most famous sculptures in the world, by one of my favourite sculptors. When I found out that Neal Elias, one of my favourite origami designers had made an origami version, I knew I had to make it.
Note: This post contains affiliate links.  Please see disclosure for more information.
Rodin's The Thinker
The Thinker wasn't the original name for this figure. Originally, Rodin intended him to be part of a larger work called The Gates of Hell, based on Dante's Devine Comedy.  The figure was called The Poet, leading some people to suggest that it was intended to be a representation of Dante himself, although Dante was usually depicted as much more slender than the bulky, muscular frame of The Thinker.
The Paris museum that The Gates of Hell was intended for was never completed, so The Gates of Hell was never completed in Rodin's lifetime and was finished posthumously. Rodin repurposed The Poet as a statue of a single figure and called it The Thinker.
There are numerous versions of The Thinker. If there is one that could be called 'the original', it's at The Rodin Museum in Paris.  You can read more about Rodin's works around the world here.
Neal Elias's The Thinker
One of the things I look for in an origami model is a simple, uncluttered approach. Even complex models can have an efficient design. It's one of the reasons that I like Elias's origami models. In this case, though, it could be a bit of a disadvantage.
Rodin's sculptures are famous for the way he faithfully represents shape and form, particularly muscles and bone structure. As Rodin said "What makes my Thinker think is that he thinks not only with his brain, with his knitted brow, his distended nostrils and compressed lips, but with every muscle of his arms, back and legs, with his clenched fist and his gripping toes." Clearly Elias's version of Rodin's model doesn't do this.
Elias has created an origami design in the same classic pose as Rodin's figure, but it can't replicate Rodin's sculptural style and nor should it. It's very much an Elias model, made in his style. Surprisingly though, it doesn't matter. The Thinker is such a famous design and the pose is so iconic that Elias's model works anyway.
Folding the Origami Thinker
Anyone who is familiar with Neal Elias's models won't be surprised by the folding sequence for this one. Apart from the base the man sits on, the model uses a pretty standard figure base that is similar to several of his designs.
If you have folded one of Elias's figures before, like Llopio's Moment of Truth, the Boy on a Rocking Horse, Siesta, or The Last Waltz, you should have no trouble folding this model. If this is your first Elias design but you know how to do an open sink fold you'll be ok.  I would classify this as a low intermediate level model.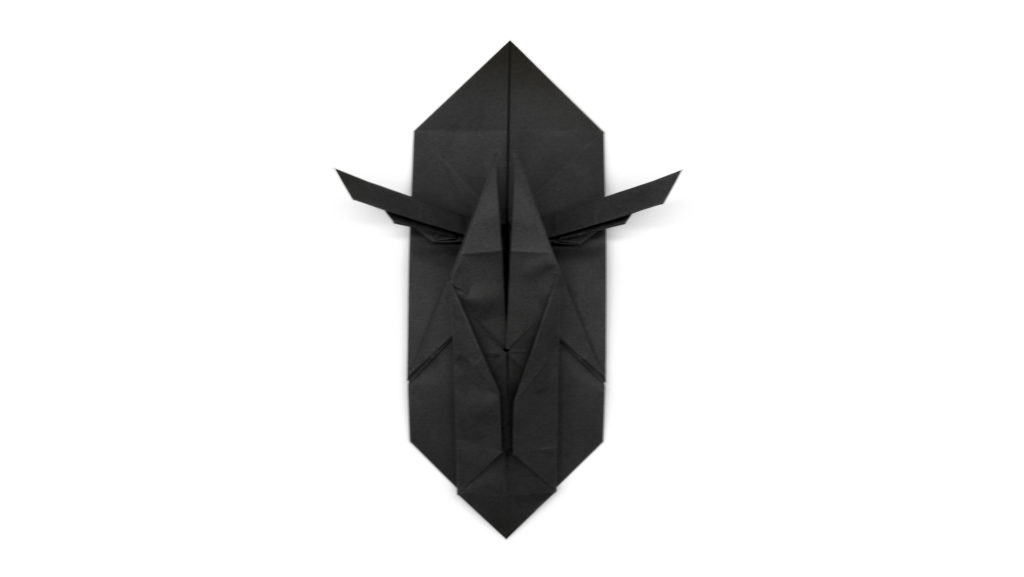 This model is best folded from paper that can cope with folding multiple layers of paper together. I have tried making it with tissue foil, kraft paper, biotope, and tant. They were all successful other than the tissue foil, which tore at the most critical step when the legs are folded out and the model becomes 3D. The best results came from using tant.  All three of these papers are available from Origami-Shop.com.
A sheet of paper that is 35cm x 35cm (about 13.75in square) will produce a model that sits on a base that is 6.5cm long (about 2.5in), just over 4cm wide (1.75in) and The Thinker will stand just under 11cm tall (4.25in).

I recommend using wet-folding for shaping the legs, arms, head, and body to make sure that the figure holds its shape. If you've never tried wet-folding before, moisten the paper very slightly (not too much!) and fold the paper while it is slightly damp. As the paper dries, it will hold its shape better than it would if the paper was folded dry.
It takes about fifteen minutes to fold the origami version of The Thinker. It will take longer if you use wet-folding to finish the model as recommended, but the final result is worth it.
Origami Thinker Instructions
Diagrams for Elias's origami Thinker are available in the book The Origami of Neal Elias by Dave Venables. This book is produced by the British Origami Society and is available from Amazon.co.uk here. It contains a good selection of Elias's models and personal anecdotes about Elias and his work by the author. It is beautifully presented and the diagrams are easy to follow.
I have featured a couple of models that are available in this book already – Llopio's Moment of Truth, Andres Segovia, and The Last Waltz. There will definitely be more to come.
Get Involved
I'd love to hear your views on this origami Thinker.  Feel free to let me know what you think in the comments below, or you find can me on Instagram or Twitter. Check out my Pinterest boards too!
You can also subscribe to the mailing list by entering your email in the box below:
Disclosure:
This page contains affiliate links and I may receive some small commission for purchases made through the links on this page. This hasn't affected my decision to recommend a product – I value my personal and professional reputation and would not endorse a product or supplier I did not believe in. There is no additional cost to you for purchasing through this page.
As an Amazon Associate, I earn from qualifying purchases.  Origami Expressions is a participant in the Amazon Services LLC Associates Program, an affiliate advertising program designed to provide a means for sites to earn advertising fees by advertising and linking to amazon.com, amazon.co.uk, amazon.ca. Amazon and the Amazon logo are trademarks of Amazon.com, Inc. or its affiliates.