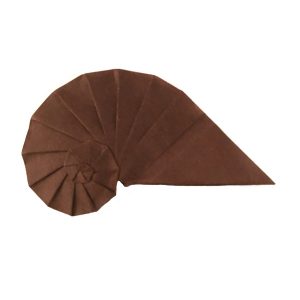 She sell sea shells on the sea shore,
The shells that she sells are sea shells, I'm sure.
Traditional tongue twister
About the Origami Navel Shell
I found this model when I was having a clear out the other day and trying to reduce my origami collection that had become completely unmanageable. I had completely forgotten I had this one! I was taught how to fold this by David King at a British Origami Society Convention in September 2008. If you're reading this, thanks David!
This Origami Navel Shell is typical of Tomoko Fuse's designs – applying strong geometric principles to achieve a simple and attractive result. Provided you fold accurately, it is also surprisingly easy to make.
Folding the Origami Navel Shell
Tomoko Fuse's Origami Shell is made from a simple kite base, and then a series of repeated angled pleats to form the curve of the Shell. I did say it was simple!  The only thing you need to be careful of is to fold accurately as the pleats get quite small as they narrow towards the point.
A 20cm x 20cm (8in x 8in) sheet of paper will produce an Origami Shell that is about 10cm (4in) long and 6cm (2.25in) high. I have chosen to make this one out of a sheet of brown paper I had lying around. Just about any paper will do, although something that looks organic would be a good idea. A slightly translucent or pearlescent paper would give a really interesting 'sea-like' finish.
The model takes about ten minutes to make.
Diagrams for the Origami Navel Shell
There are two sources of instructions for this model. The first is Fuse's book SPIRAL Origami Art Design. This is an excellent book with some interesting designs. I will be reviewing in a future post. It is available from origami-shop.com. For those people that prefer to fold from videos, Sara Adams has produced this video tutorial.
Get Involved
I'd love to hear your views on this origami seashell. Feel free to let me know what you think in the comments below, or you find can me on Instagram or Twitter. Check out my Pinterest boards too!
You can also subscribe to the mailing list by entering your email in the box below:
Disclosure:
This page contains affiliate links and I may receive some small commission for purchases made through the links on this page. This hasn't affected my decision to recommend a product – I value my personal and professional reputation and would not endorse a product or supplier I did not believe in. There is no additional cost to you for purchasing through this page.
As an Amazon Associate, I earn from qualifying purchases.  Origami Expressions is a participant in the Amazon Services LLC Associates Program, an affiliate advertising program designed to provide a means for sites to earn advertising fees by advertising and linking to amazon.com, amazon.co.uk, amazon.ca. Amazon and the Amazon logo are trademarks of Amazon.com, Inc. or its affiliates.