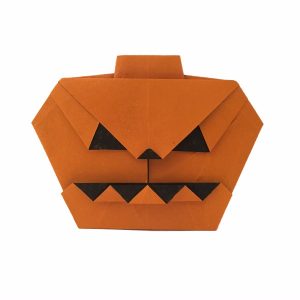 "My nickname in High School was Jack o' Lantern because I'm missing nine teeth"
Thom Yorke
Before we get to the Jack o' Lantern…
…Welcome to World Origami Days 2016! This runs from 24 October to 11 November every year. Last year I tried to do one blog post about a different model every day for WOD and it nearly killed me. I'm not doing that again. If you'd like to know more about World Origami Days, check out this post I did last year. I might say something else about it over the next couple of weeks, but that will do for now.  Let's get on with the show!
About the Origami Jack o' Lantern
If you've glanced at a calendar recently, or been shopping on any high street seemingly this side of the moon, you'll probably have noticed that it's Halloween next week. With that in mind, I thought I'd post a model on that theme that's simple to do, and pretty quick. This is something that kids can will enjoy making in the run up to the day. Three or four of them (or even just one big one) would look great stuck to the outside of the front door, or in the kitchen window.
There are loads of different Jack o' Lantern models out there – including some 3D ones. I like this one by Anita Barbour as I think it pretty much sums up everyone's idea of what a traditionally carved pumpkin should look like, and the proportions are pretty much perfect. You can fold the corners in a little to give it a more rounded finish, but I like the angled look.
Note: You can find more ideas for origami that kids can make here.
Folding the Origami Jack o' Lantern
Sounding like Captain Obvious for a moment – pumpkins are usually orange. To make a really good Jack o' Lantern you need paper that is orange on one side and black on the other. If you have a bit of paper that is orange on one side and black on the other, then great. If not, the best way of doing this is to glue some black tissue paper to one side of a sheet of orange paper.
Don't worry if you get creases or bubbles in the paper, it all adds character to the final model. This is what I did for the model in this picture and you can see where the paper crumpled when I stuck the papers together. I used orange origami paper, but if you haven't got any then two pieces of tissue paper will work just as well.
I said this model is pretty simple. If you're planning to do this with kids I recommend trying it yourself first because the diagrams are hand drawn and you will want to make sure you can follow them easily. The only steps in the model that should give you any trouble are steps 3 and 8, but you can see what the instructions mean by looking at what the results are supposed to be in the next step. If you get stuck, email me and I will try to help out.
Anita Barbour who designed this model says that a sheet of paper that is 25cm x 25cm (about 10in x 10in) will produce a Jack o' Lantern that is about 12cm (around 4.75in) tall. I estimate about five to ten minutes the first time you fold this model. Once you've done it once you can probably do it in less than five. Remember to allow time for gluing the paper together and letting it dry though.
If you use orange and black tissue paper you can try sticking lots of sheets together and making a massive one to stick outside! Keep your fingers crossed it doesn't rain.
Origami Jack o' Lantern Diagrams
Anita Barbour's hand-drawn diagrams are available either on her website, or from happyfolding.com. I am not aware of any video instructions for this design.
More Halloween Origami
If you are looking for more ideas of what to fold for Halloween, you can check out my review of Stephane Gigandet's book Origami for Halloween.  I have also written about a few other models that are perfect for Halloween, including:
Get Involved
I'd love to hear your views on this origami jack o lantern. Feel free to let me know what you think in the comments below, or you find can me on Instagram or Twitter. Check out my Pinterest boards too!
You can also subscribe to the mailing list by entering your email in the box below: