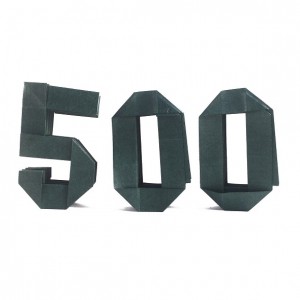 "More than kisses, letters mingle souls"
John Donne
Today's blog post is about origami letters and numbers. I was inspired to write about this after my Instagram page reached 500 followers and I thought I should say 'thank-you' to all the people that follow me. If you want to take a look at my Instagram page (and follow maybe?), please click here.
The Model
There are a few different designs of origami letters and numbers – Sara Adams has a good set of video tutorials for one set designed by Andrey Lukyanov on her site happyfolding.com. These ones are designed by Jo Nakashima. I prefer this set as they are 3D and free-standing. All of the paper goes into making the actual shape – unlike some other designs where the letter/number is formed in relief, surrounded by a background.
Folding Nakashima's Letters and Numbers
All of Jo Nakashima's origami letters and numbers are formed from a 2:1 rectangle – or half a square.  I recommend using 15cm x 15cm (6in x 6in) ordinary kami (origami paper), preferably paper that is coloured the same on both sides, otherwise the wide side of the paper will show through in the final model – as shown in the above picture.
Nakashima's letters and numbers are of low-intermediate difficulty.  There are no really complex folds in these models and I'd encourage anyone of any ability to have a go.  The first couple of steps for every letter or number is exactly the same – divide the paper into eighths lengthwise and pleat.  After that, almost every step is either an inside or outside reverse fold.
The only reason I have graded these as low-intermediate is that because the paper is pleated, all of these reverse folds have to be done at the same time.  It's not as fiddly as it sounds, but it does demand some reasonably accurate folding if the result is to look good.
Origami Letters and Numbers Instructions
Jo Nakashima has an excellent series of videos for his letters and numbers, showing how to fold every upper and lower case letter and number in the English alphabet on his YouTube channel. Nakashima's videos are very good quality, with English closed-captioning, and a diagram of each step shown in the top right corner of the video as it progresses.
The playlist for tutorials on folding all the letters in the alphabet is available on this link, while the playlist for the numbers 0 – 9 can be accessed here.
Good luck folding Jo Nakashima's origami letters and numbers.
Get Involved
I'd love to hear your views on this origami alphabet model. Feel free to let me know what you think in the comments below, or you find can me on Instagram or Twitter. Check out my Pinterest boards too!
You can also subscribe to the mailing list by entering your email in the box below: