The bull is stronger, but the matador is smarter
Muhammed Ali
About the Origami Matador
The actual title of this model is Llopio's Moment of Truth, and it was designed by Neal Elias. This is the second of Elias's models I have featured on this blog, the other being The Last Waltz, which is one of the most graceful designs I know. It helps that it has a title that fits the model very well.  The same is true of this model.  Llopio's Moment of Truth has a simplicity about it that belies how complex it is to fold.  This is a very dramatic model and the title captures this brilliantly. Far too often origami models are static representations of things with titles like 'bird' or 'dog'. That's not the case here!
The other reason I like this model is that it's been around a long time.  There are a lot of really good origami models that have been around for years, but will get forgotten about if people don't keep folding them, and it would be a shame if that happened to this one. This model has held up well over time, despite the increasing trend for more complex designs. I have often remarked on this blog that more detail doesn't always mean better design and Neal Elias has proved that again here.
Folding Llopio's Moment of Truth

This is a high-intermediate level model. Folding accuracy is essential to avoid the wrong side of paper showing through on either the matador or the bull and spoiling the look of the finished model.
Folders who are familiar with different types of origami technique or Neal Elias's work will probably recognise the origami matador and his cape as box-pleated construction, while the bull is constructed from two waterbomb bases, one alongside the other, which make either side of the bull. You can see this in the picture above, which has all the precreasing necessary to collapse the base for the model.
Use thin paper for this model. Ideally, it should be black or brown on one side for the origami matador and bull and red on the other for the cape. Unless you're making your own paper from pulp, that probably means you're going to have to stick two sheets of paper together.
Ordinary origami paper is pretty much hopeless for this model. I made the one in the picture above using tissue foil backed with red tissue paper. Check prices and availability of tissue foil at The Origami Shop here. This is about as thick as I would recommend for this model and it is prone to 'paper creep' when folding (this is when the thickness of the paper creates many edges as the paper is folded through many layers, instead of one crisp, clean edge).
I have seen it folded using lokta backed with tissue and the result is beautiful, but again, paper creep could be an issue. Home made tissue foil gives a good final result, but can be a pig to manipulate during the folding process unless you are used to it, and the model tends to be very fragile when it's finished. The best instructions for making this paper using a laminate of tin foil and two different coloured sheets of tissue paper are on Sara Adams's website.
Whatever paper you choose, you're going to need a fairly big piece, and an odd size.  The sides of the paper should be in the ratio of 2⅚:1.  That's not as difficult to achieve as it appears.  As you've got to precrease the paper anyway, it's easiest to start with a 3:1 rectangle. Crease the section that becomes the origami matador into twelfths and cut off the last two rows.
I recommend starting with a sheet of paper that is 60cm long and 20cm tall. This will produce a final model that stands just under 11cm (4 ¼in) wide and 10 cm (4in) high. Allow an hour to an hour and a half to fold this model.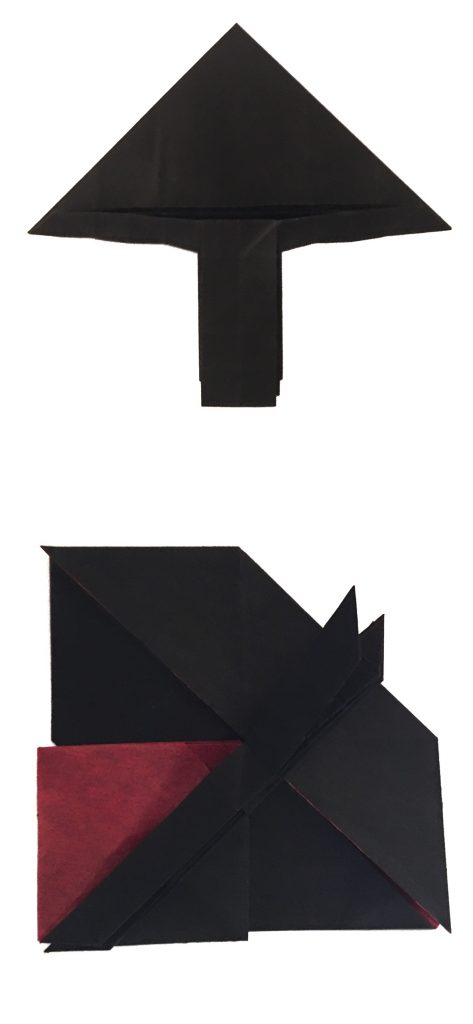 Diagrams for the Origami Matador
There are a couple of sources of diagrams for Llopio's Moment of Truth. British Origami Society Supplies has produced a booklet on Neal Elias's designs which include diagrams for this model called Neal Elias Selected Works 1964-73. The BOS also has a DVD available, called The Origami World of Neal Elias – I think this is pretty much a 'must-have' for any origami resource collection.  This DVD also includes diagrams for Neal Elias's Siesta.
Unfortunately, at the time of writing the BOS supplies is temporarily closed while it finds a new home. There is a video available though! Sara Adams has produced the following tutorial video showing how to fold this model. She does assume a certain level of folding ability on the part of anyone watching this video, which is reasonable given the complexity of it.  As usual for Sara's videos, the quality is excellent and she explains each step carefully. Further videos are available on her website or YouTube Channel, which I would urge you to check out.
Get Involved
I'd love to hear your views on this model.  Feel free to let me know what you think in the comments below, or you find can me on Instagram or Twitter. Check out my Pinterest boards too!
You can also subscribe to the mailing list by entering your name in the box below: