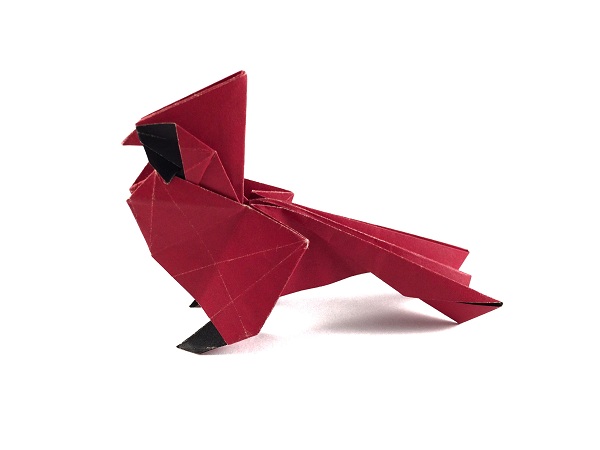 The model I have chosen to feature for Day 13 of World Origami Days 2015 is the North American Cardinal by Roman Diaz. I used this model as an avatar on both my Instagram and Twitter accounts.
I really like this origami cardinal model.  It is quite a striking design, with simple, strong lines. It is an intermediate level fold, with no particularly difficult steps, although accurate folding is required – you do need to be quite precise when folding to get a good quality model in the end. Roman Diaz's origami cardinal takes between half an hour and forty-five minutes to fold. There is no need for extensive final shaping and finishing with this design – the folding sequence alone produces a good result.
I was taught to fold this at a British Origami Society Convention some years ago. For my review of what goes on at a BOS Convention, check out my review of the BOS 2015 Autumn Convention. Diagrams for this origami cardinal model are available in Roman Diaz's book Origami Essence – a companion to his book Origami for Interpreters. Both of these are available from Origami Shop.
Most types of paper can be used to fold this model. As Cardinals are traditionally red and black, the paper chosen should be red on one side and black on the other.  I have made this one out of kami, but even printer paper will achieve an acceptable result. Generally I don't like using kami to fold animals and birds as the final model can appear lifeless and uninteresting.  Much better results are possible using more textured papers such as lokta or unryu with longer fibres, backed with black tissue paper to provide the required colour combination.
Difficulty: Intermediate
Time to fold: 30 – 45 minutes
Paper Choice: Any. Textured paper preferred, red and black on each side
Other Roman Diaz Origami Designs
As I mentioned, Roman Diaz is one of my favorite origami designers.  In addition to the Cardinal, I have also written about his Origami Vixen, Hippocampus, Secretary Bird, Inflatable Pig, and Advanced Origami Crane.
Get Involved
I'd love to hear your views on this origami cardinal or any other origami bird models.  Feel free to let me know what you think in the comments below, or you find can me on Instagram or Twitter. Check out my Pinterest boards too!
You can also subscribe to the mailing list by entering your email in the box below: