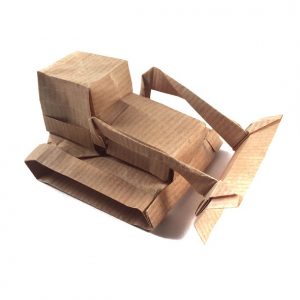 The model chosen for day 11 of World Origami Days 2015 is an Origami Bulldozer, designed by Giles Towning.
This is the second of Giles Towning's models I have featured on this site. The first was his Retractable Tape Measure.  This model is made of two rectangular strips of paper – one for the bulldozer cab, and another for the shovel.  I'm not generally a fan of multiple-piece models unless there is a good reason for doing so, and in this case, there is.  The shovel can be moved up and down and positioned however you like.  That gives the model a sense of fun and action.
It's quite a complex model to make, taking about an hour to an hour and fifteen minutes to fold.  Although it has a fairly simple 'boxy' appearance, there are some steps where different layers of paper and folds have to move at the same time, and a couple of folds that lock the model together that can be quite fiddly to accomplish. It also requires a reasonable degree of accuracy when doing the initial precreasing, otherwise the model will be difficult to fold. For that reason I'd recommend starting with a reasonably large rectangular strip – cut from an A3 piece of paper would be ideal. For people in the US, 11in x 18in paper will do.
I have made the model in the picture out of brown parcel paper. The result is ok, but some of the drama of this model has been lost by using paper that is the same colour on both sides. A better idea would have been to back the parcel paper with black tissue paper first.  That would make the tracks and shovel a different colour to the cab in the completed model.
Next time I make this, I will use a stiffer paper than the parcel paper I used here – perhaps something like elephant hide which would stand up to the fiddly steps rather better than the parcel paper. I don't recommend kami for this model.  It is possible to fold this from a large strip of kami, but this paper doesn't suit the folding sequence for the Bulldozer and is best avoided.
Origami Bulldozer Instructions
Diagrams for this design are in Towning's booklet Origami Construction, available from British Origami Society Supplies.
Difficulty: Complex
Time to fold: 1 hr – 1 hr, 15 min
Paper: A large rectangle cut from something reasonably stiff, such as elephant hide, backed with black tissue paper.  Kami is not recommended.
Get Involved
I'd love to hear your views on this origami bulldozer or any other Giles Towning origami models.  Feel free to let me know what you think in the comments below, or you find can me on Instagram or Twitter. Check out my Pinterest boards too!
You can also subscribe to the mailing list by entering your email in the box below: