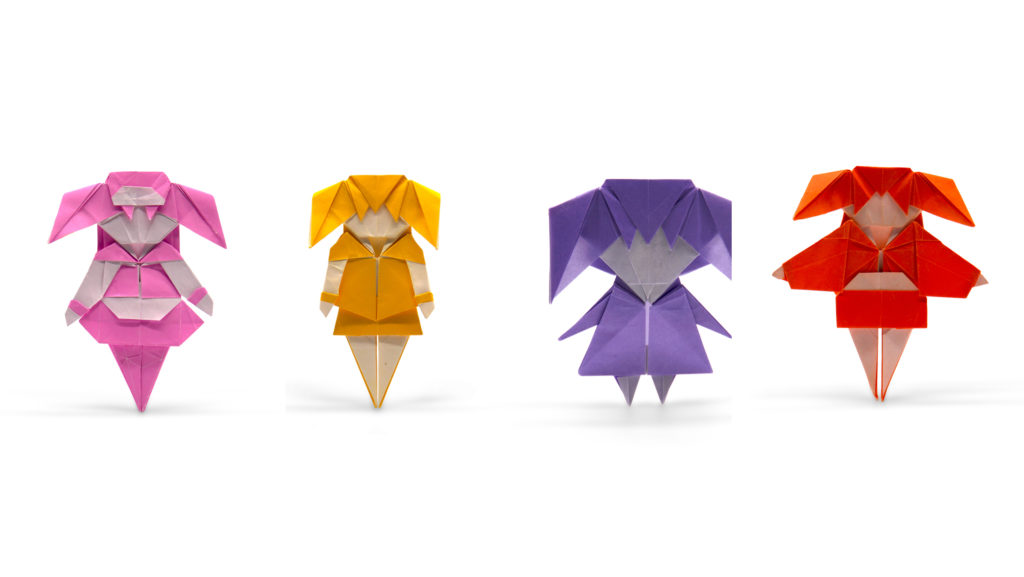 "Little girls love dolls. They just don't love doll clothes. We've got four thousand dolls and ain't one of them got a stitch of clothes on."
-Jeff Foxworthy
About the Little Girls series of models
Origami books usually contain a series of designs by one or two designers, or a collection of models around a theme. Occasionally you get to see a small group of designs presented together that give a bit of an insight into the creator's process. This series of Little Girls by Chen Xiao is an example.
Note: This post contains affiliate links.  Please see disclosure for more information.
These four models are included in Chen Xiao's book Amazing Origami, which I will be reviewing soon. There are four models in the series:
Little Girl Prototype (seen here in purple)
Little Girl (the yellow one)
Kimono Girl (shown here in orange)
Little Girl Housemaid (the pink model)
They are presented in this order in the book, and I think that is the best order to fold them. As you go through the models, you can clearly see the same base in use with variations as the designer explores different options.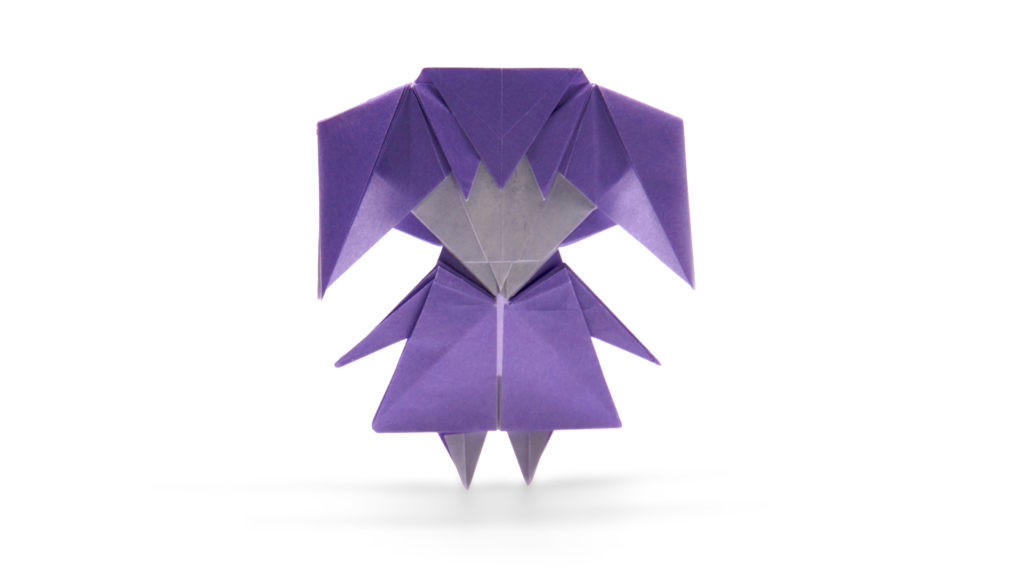 The Prototype sets out the base and many of the final finishing models for the series. As an example, the folding sequence for the head and hair is the same in every model apart from the Housemaid which has some slight differences to form the cap. The yellow model, the Little Girl, introduces extra steps to create the improved arms and legs, which you can find in the later models.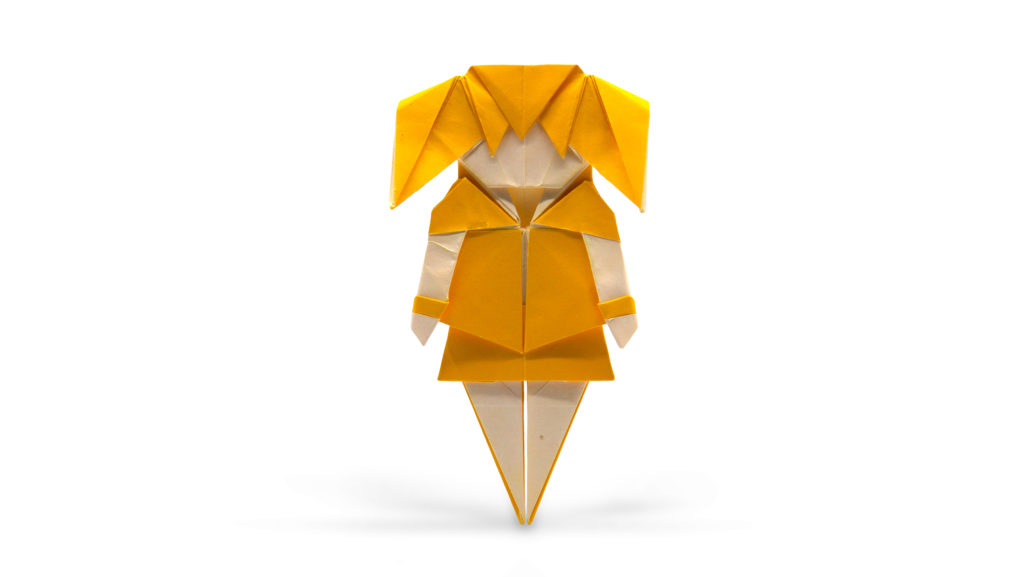 By presenting these models together, Chen Xiao has created a series that is greater than the sum of its parts. It shows how a base can be expanded upon, developed, and new features added to create different variations and improvements to the final model. If you are starting to experiment with designing your own models, folding these models is a useful exploration of what's possible and how to go about designing.
Folding the Little Girls
The designer recommends 24cm (9.5 inches) kami, or 23cm sandwich paper made with tissue paper and foil for all of these models. Normally I try to stay away from kami unless it's really simple stuff, but actually for these models it's probably the best choice.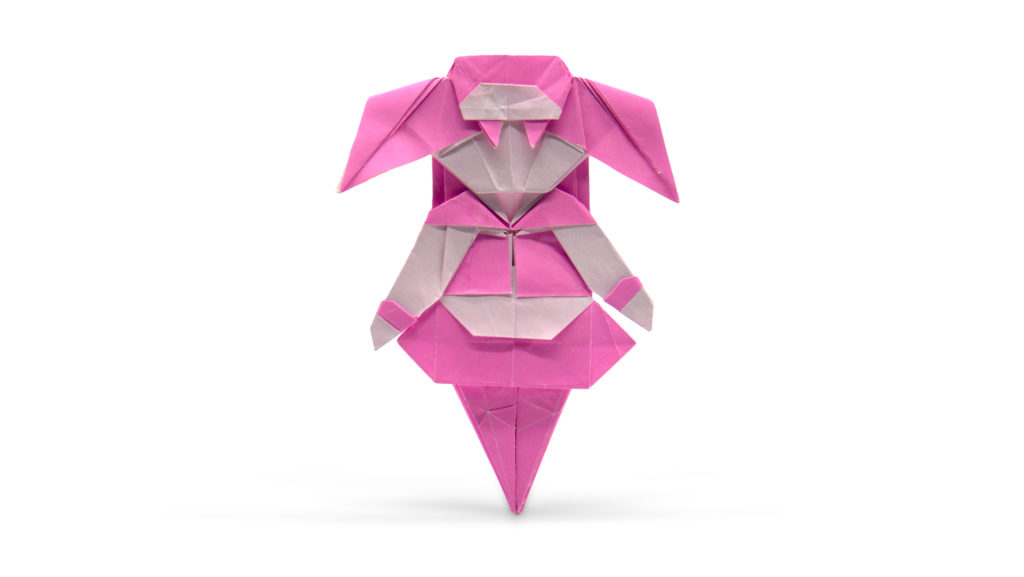 The origami artist Paul Jackson once said that 'a lot of origami looks trivial because the paper looks trivial'. He's got a point and it's one of the reasons I don't like folding with kami. It's pretty bland, lifeless stuff. Normally I try to stay well clear of it because it adds nothing to the final model – except when it does!
Kami works well for these designs because they are pretty stylised creations in the first place. They are reminiscent of Japanese anime comic strips, so the bright, solid colours work well and add to that idea. Sandwich paper or other textured paper wouldn't work as well. All of the Little Girls you see pictured here are folded from kami.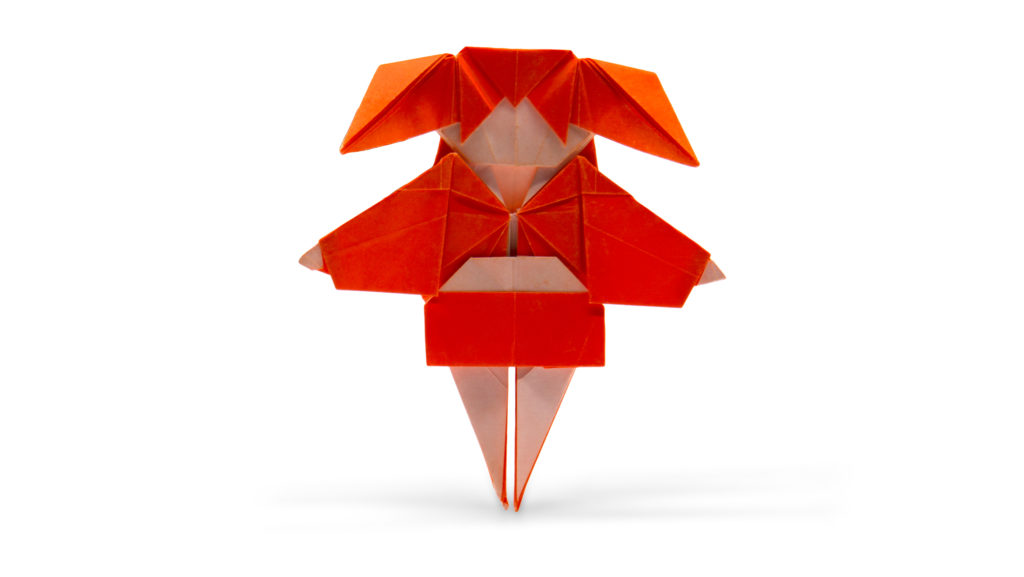 These are complex models. The Prototype is the simplest of the four, and has the least steps – 63. The Little Girl has 99 steps, the Kimono Girl has 87, and the Little Girl Housemaid 86. This last one is surprising because it looks the most difficult. All of these use a range of sink folds, including open sinks, closed sinks and mixed sinks.
All of these models take about an hour to fold – give or take a little bit to allow for the variations between them. Made from 24cm kami, the finished results are all roughly the same size, at 10-11cm (approx. 4in) tall.
Instructions for the Origami Girls

The instructions for the four models in the series are available in Chen Xiao's book Amazing Origami, published by Nicolas Terry and sold only through his site Origami-shop.com. This book also includes one of the origami husky models I wrote about previously.  I'll be doing a review of this book at some point, so keep an eye out for that. Click here to check the price on origami-shop.com.
There are no video instructions available for these origami girl models.  If you want to fold them, you need the book.
Get Involved
I'd love to hear your views on these origami girls.  Which one is your favourite? Feel free to let me know what you think in the comments below, or you find can me on Instagram, Facebook, or Twitter. Check out my Pinterest boards too!
You can also subscribe to the mailing list by entering your email in the box below:
Disclosure:
This page contains affiliate links and I may receive some small commission for purchases made through the links on this page. This hasn't affected my decision to recommend a product – I value my personal and professional reputation and would not endorse a product or supplier I did not believe in. There is no additional cost to you for purchasing through this page.
As an Amazon Associate, I earn from qualifying purchases.  Origami Expressions is a participant in the Amazon Services LLC Associates Program, an affiliate advertising program designed to provide a means for sites to earn advertising fees by advertising and linking to amazon.com, amazon.co.uk, amazon.ca. Amazon and the Amazon logo are trademarks of Amazon.com, Inc. or its affiliates.