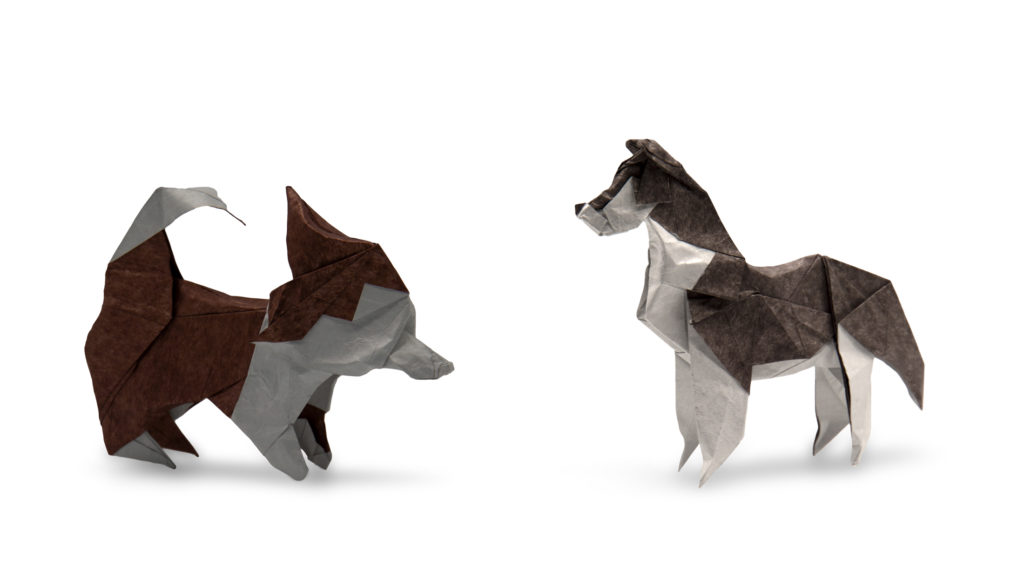 "Home computers are being called upon to perform many new functions, including the consumption of homework formerly eaten by the dog."
-Doug Larson, Columnist
One dog, two ideas
The husky is one of the most distinctive dog breeds. The thick coat with white and either grey or brown fur looks very dramatic, and they always manage to look both fluffy and cuddly and purposeful and workman-like at the same time. Perhaps that's why these two models look so different – the designers have both chosen to accentuate different parts of a husky's appearance and personality.
Note: This post contains affiliate links.  Please see disclosure for more information.
The first Husky is designed by Chen Xiao, an origami creator from China. His model focuses on the proportions of the animal and the way that the coat changes colour from the dog's back to its belly. The result is a model of a Husky that looks lithe and powerful.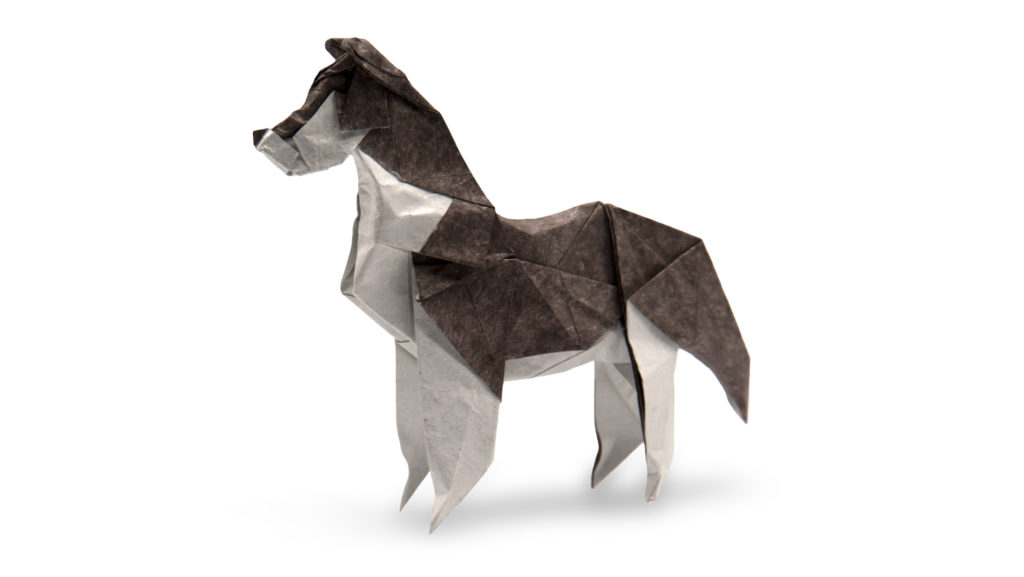 The second model of a Husky is by the French artist Sebastien Limet. Like a lot of Limet's designs, his design focuses on character and has a sense of playfulness to it. This origami Husky doesn't place as much emphasis on proportions as the first one and relies more on shaping and curving the edges for the finished model – which is why the sandwich paper works so well for this design. The head is quite large compared to the size of the legs, and I'm not sure I like the design of the ears – they seem a bit too big for the head. Nevertheless I do like this creation – it's very cute and feels more a husky puppy than a fully grown dog.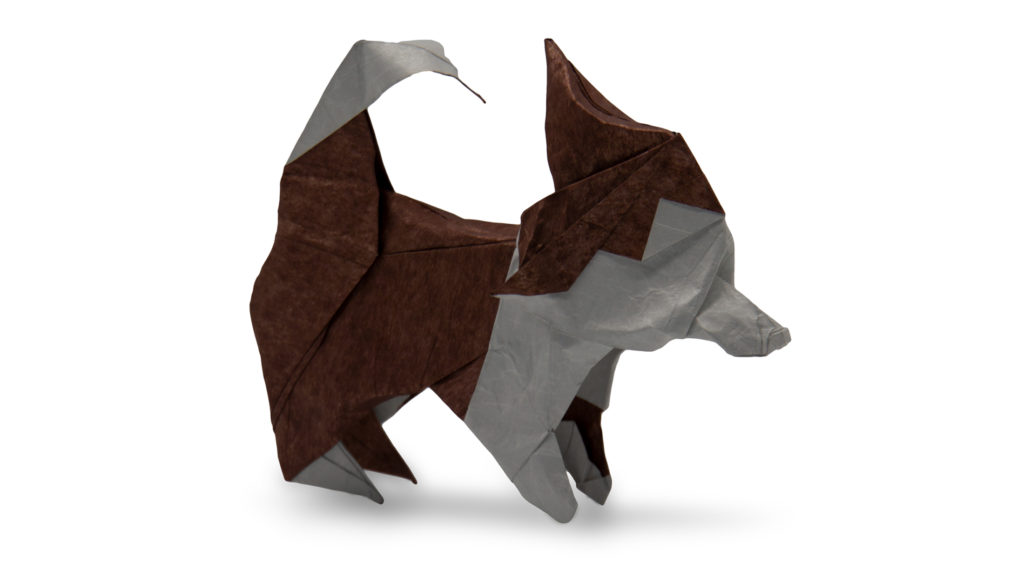 Folding Chen Xiao's Husky
This is a complex model. I can't actually remember how long it took me to fold it because it I did it in stages over a few evenings when I had some spare time, but there are 75 steps in the folding sequence. None of them are particularly difficult folds to do, but the model does rely on a high degree of accuracy to fold it properly.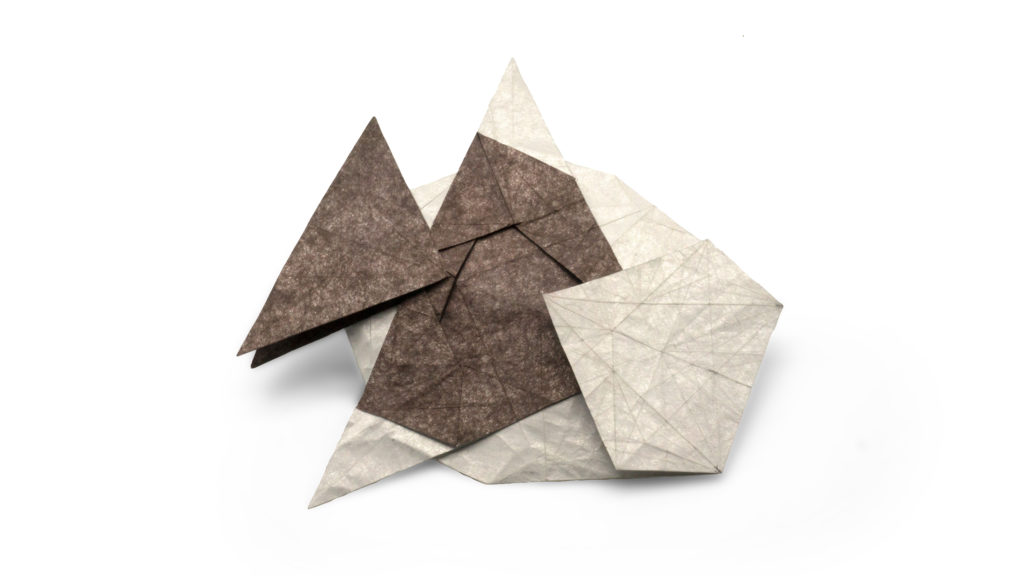 The designer recommends either kami or foil sandwich paper, coloured grey on one side and white on the other. I wouldn't like to try folding this out of kami, but sandwich paper is a good choice. Its thin enough to maintain the accuracy, robust enough to take the precreasing, and gives a good smart finish on the final model. A 24cm x 24cm (about 9.5in square) sheet of paper which Chen Xiao recommends, produces a Husky that is 13cm (just over 5 inches) long, and stands about 10.5cm (around 4.25in) tall.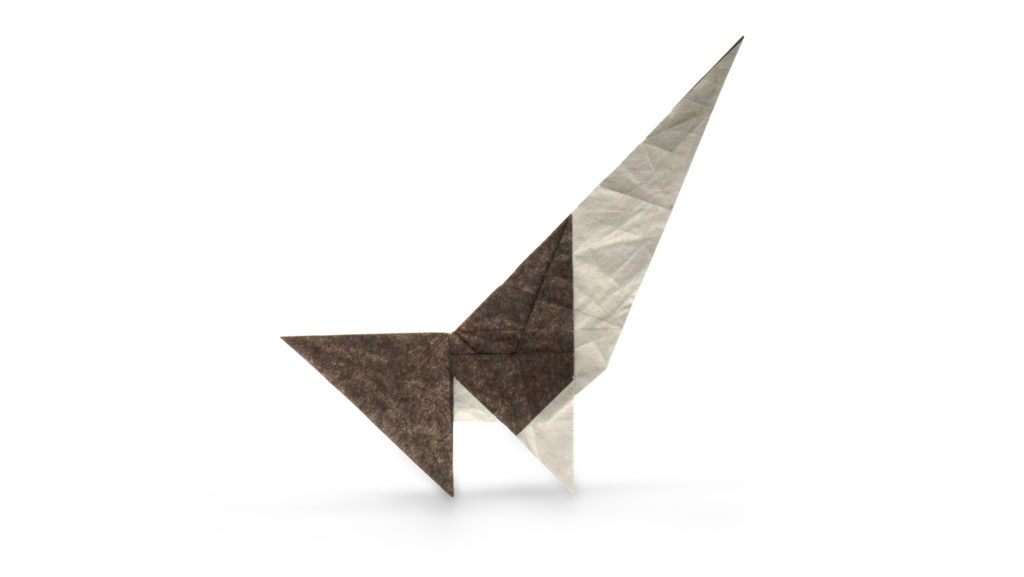 Folding Sebastian Limet's Husky
This is also a complex model. There's only one sink fold though, which is not particularly difficult to do, and the tail uses a standard colour change technique, so most folders shouldn't find this particularly taxing. I folded this one in a little over half an hour.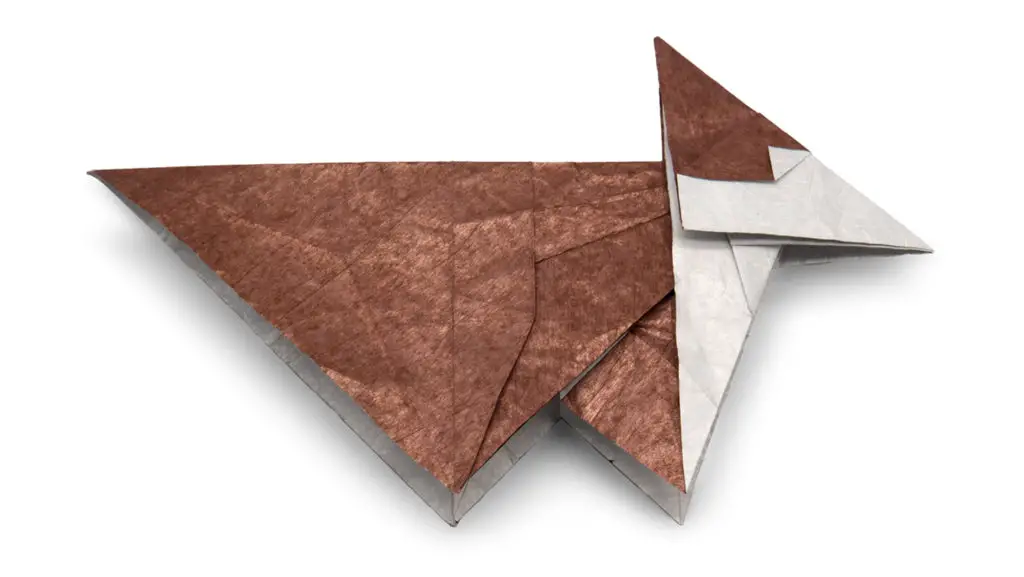 Sandwich paper works well for this model too. I used a 30cm x 30cm sheet, which produced a final model that is almost exactly the same dimensions as the previous model! 13cm (just over 5 inches) long, and about 10.5cm (around 4.25in) tall.
Picking a preference
So which one do I prefer? Well in all honesty I can't decide. I like them both. I admire Chen Xiao's attempt to create a more realistic Husky and I think it's a very well-polished design. On the other hand, I'm a big fan of Sebastien Limet's origami design style. It has a sense of quirkiness that just couldn't have come from anybody else. I've been waiting for his book to come out for ages and I'll planning to buy a copy and work through it, just as soon as I've finished everything else I've got half-folded!
In the end, I'm going to sit on the fence on this one. Both models have their merits and I like each one for different reasons. I think what I like most though, is seeing how two designers approach the same subject in completely different ways. That's part of the fun of finding new models to fold – no matter how many times you think a subject has been 'done' there will always be another perspective and a new way of folding it.
Where to find the diagrams
Both these designers have books available through Origami-shop.com, as part of the Happy Folding Collection, that include their origami husky instructions.  I will be reviewing both of these books in the future, so keep an eye out for these.
Chen Xiao's book is called Amazing Origami – volume four of the Happy Folding Collection.  This book also includes the origami girls series. Click here to check the price on origami-shop.com.

Sebastien Limet's is Just a Simple Base and is volume six in the series.  Click here to check the price on origami-shop.com.

 You can also fold Sebastien Limet's origami husky using this video tutorial.
If you are interested in discovering more origami designs by Chen Xiao or Sebastien Limet, they both have Instagram accounts. You can find Limet at @seblorigami and Chen Xiao at @obchenxiao. While you're there, don't forget to check out @origami_expressions!
More Origami Dog Models
If you are looking for more origami dogs to fold, there are a few more that I have featured on the blog including:
Get Involved
I'd love to hear your views on these origami huskies.  Which one is your favourite? Feel free to let me know what you think in the comments below, or you find can me on Instagram or Twitter. Check out my Pinterest boards too!
You can also subscribe to the mailing list by entering your email in the box below:
Disclosure:
This page contains affiliate links and I may receive some small commission for purchases made through the links on this page. This hasn't affected my decision to recommend a product – I value my personal and professional reputation and would not endorse a product or supplier I did not believe in. There is no additional cost to you for purchasing through this page.
As an Amazon Associate, I earn from qualifying purchases.  Origami Expressions is a participant in the Amazon Services LLC Associates Program, an affiliate advertising program designed to provide a means for sites to earn advertising fees by advertising and linking to amazon.com, amazon.co.uk, amazon.ca. Amazon and the Amazon logo are trademarks of Amazon.com, Inc. or its affiliates.