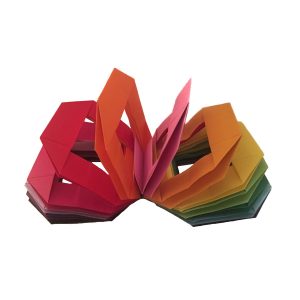 I went out with this girl the other night, she wore this real slinky number…She looked great going down the stairs.
Milton Jones
About the Origami Slinky
Doesn't everyone love a Slinky? I always find them vaguely hypnotic when they go down the stairs, or from one hand to another. The origami slinky is inherently more fragile and doesn't make the same noise (it is made of paper after all), but it is reassuringly realistic in the way that it works – even if this one is a little short.
This design is by Gay Merrill Gross, based on a module created by Laura Kruskal. I often get told that I make the models I feature on this blog sound far simpler than they actually are, but this one really is extremely simple! The video tutorial is very clear, there is no knowledge of special intricate moves required.  If you can fold a piece of paper in half reasonably accurately, you can make the origami slinky.
Folding the Origami Slinky
You need a minimum of 24 modules to make the Slinky, although more would be better.  The one in the picture is made from 30. Each module is made from a 2:1 rectangle, so cutting a square in half makes the paper for two modules.  Each module takes about four minutes to make, so the whole origami Slinky will take about an hour and a half to make. Any paper will do, and any colour. I've used origami paper in a range of colours, but you could just as easily use white printer paper.  It's easier to just use origami paper though, as you can get the right size paper just by cutting the paper in half.
Origami Slinky Instructions
Leyla Torres has produced a video showing how to fold the individual modules needed and how to assemble them into an origami Slinky. The same video also shows how to assemble the modules into a chain.  This video is excellent and explains every step very clearly. Further videos are available on her website
Origami Spirit
.
A Challenge!
If you're familiar with my olympic rings design, you can make an origami slinky using the folding sequence for rings and link them together in exactly the same way as Gay Merril Gross's design. This will take a little longer to fold, but will result in an origami slinky that is thinner, slightly more robust and with a little more springiness to it. I'll leave you to figure that out on your own!
Get Involved
I'd love to hear your views on this origami slinky or any other origami toys.  Feel free to let me know what you think in the comments below, or you find can me on Instagram or Twitter. Check out my Pinterest boards too!
You can also subscribe to the mailing list by entering your email in the box below: