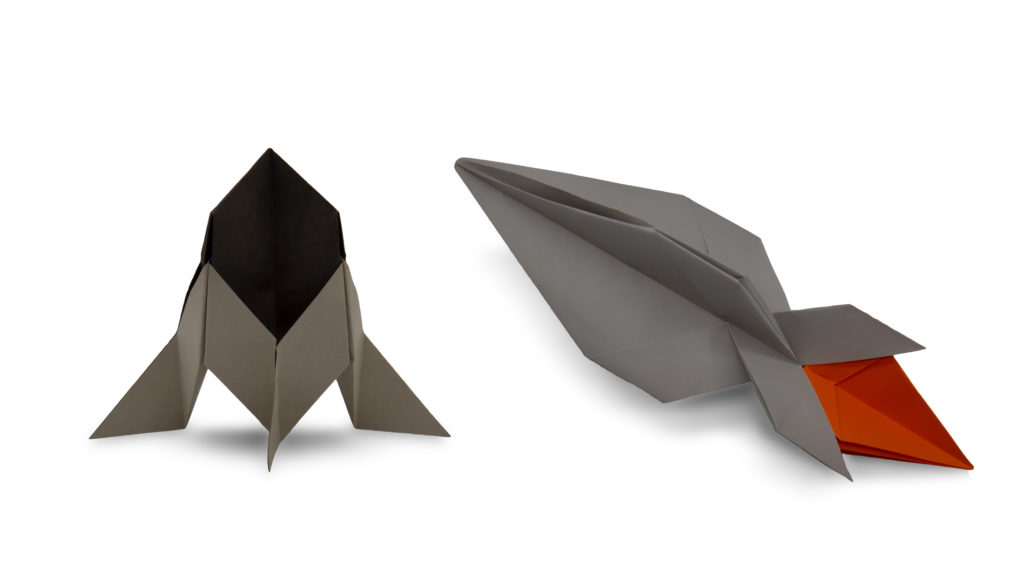 "The Eagle has landed."
-Neil Armstrong
Acorns and Oak Trees
It seems like ages ago now, with Black Lives Matter protests and ongoing coronavirus issues across the world, but as I write this, it's less than a month since two astronauts docked at the International Space Station using a commercially built rocket for the first time. This was a fairly significant thing as it showed that space travel was no longer something that was available only to governments. It's a point along the road to the commoditization and increased accessibility of space travel. If the idea of people buzzing about all in spaceships over the place without a care in the world, so beloved of sci-fi books and films, is ever to actually happen, this is an important moment.  I mean, it's not exactly the USS Enterprise, but even the largest oak tree grew from a tiny acorn.
A pair of Origami Rockets
These designs were created by Chrissy, who runs the Paper Kawaii website.  She doesn't give her surname. Her website bio is a bit thin on the ground, but it says she lives in Australia with her husband and daughter. The smaller of the two designs is called Easy Origami Rocket (pictured on the left in the photo at the top of the page) and the larger one Origami Rocket Spaceship.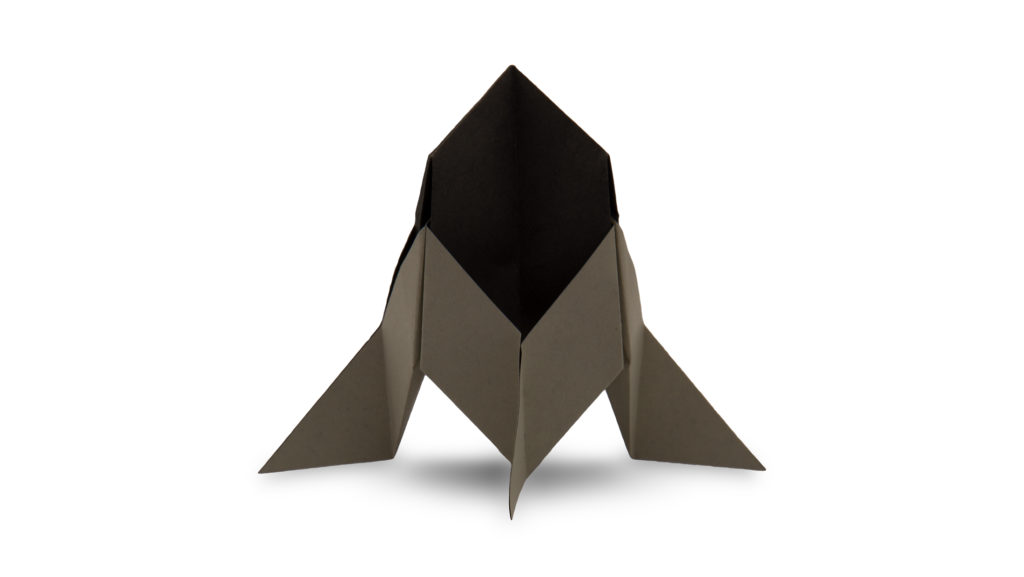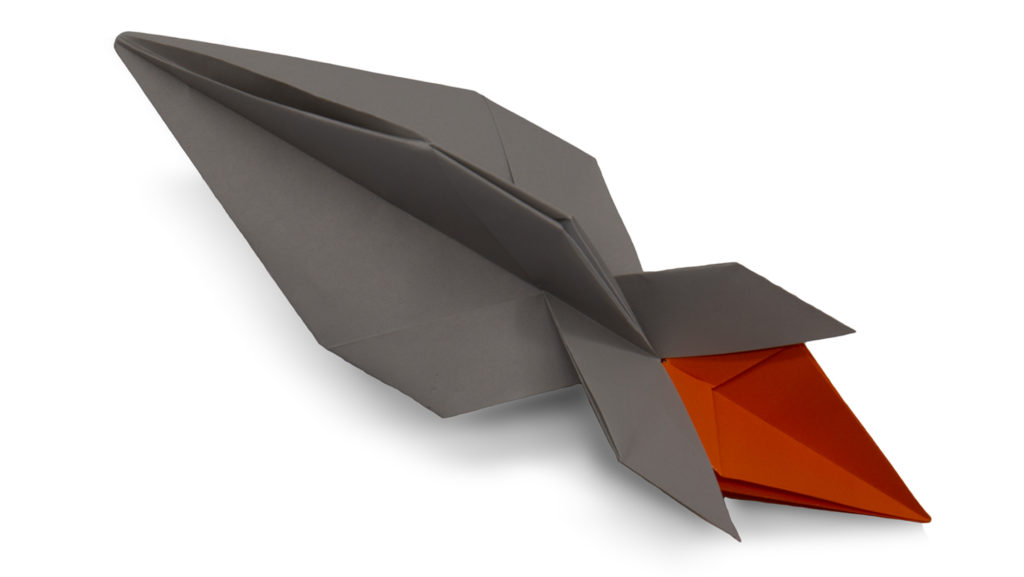 Chrissy says the Origami Rocket Spaceship could be either a rocket or a missile, but she was trying for a rocket. I think she succeeded. It's definitely a unique style of rocket, but it's a bold striking design and I think it works very well – particularly with the detachable flame added to the back. It is better proportioned than the Easy Origami Rocket which is a bit short and fat. Chrissy suggests that these would look good standing up, or hanging as part of a space-themed display, such as a mobile. She also has a moon design on her website which would look good as part of the same display.
Folding the Origami Rockets
Both of these models have the same basic construction – a modified square base, with strip grafts added on all sides to create the landing gear. The Easy Origami Rocket is definitely the easier of the two, although neither of them is exactly hard. There is a good strong locking mechanism that holds the sides together if you fold accurately. The final model uses tension in the paper to give the model some structural integrity, which I quite like. It's actually quite a bit more robust than it looks in the picture. I made this one out of a 15cm square piece of origami paper, which produces a rocket that stands 8cm (about 3in) tall, with a base that is 9.5cm x 9.5cm (3.75in x 3.75in). It took just under 10 minutes to make.
The Origami Rocket Spaceship is an intermediate level design. There's nothing unduly complicated about it and if you can fold the first one you should be able to make this one too, but there are a couple of fiddly folds to make inside to get the sides the right shape. Unlike the first one, this origami rocket ship doesn't have particularly good structural integrity and the shape of the model is a bit fragile. That is until you add the flame coming out of the back, which holds the sides in place slightly better and finishes off the design quite nicely.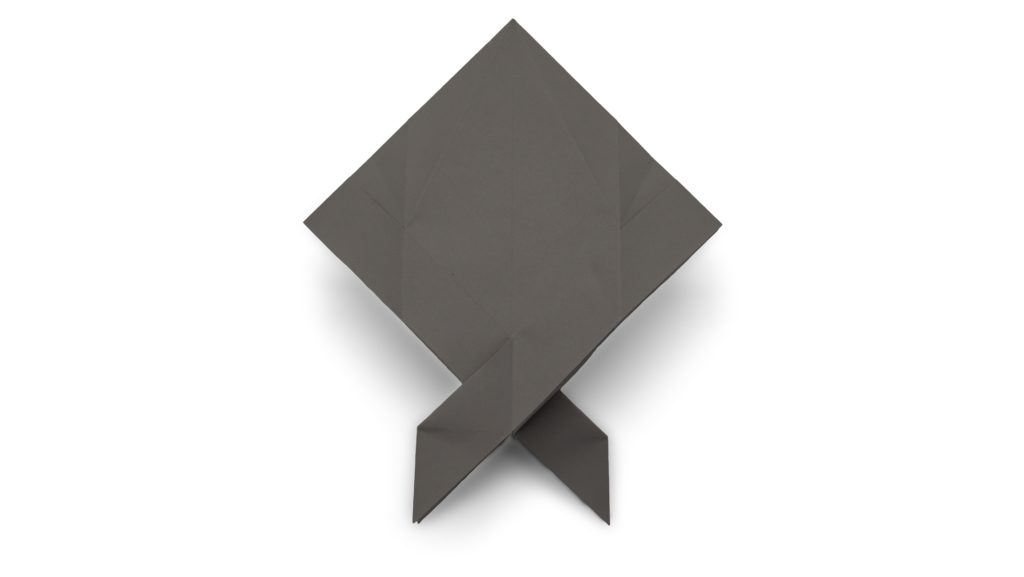 The flame coming out the back of this rocket is made from a separate sheet of paper which is 1/4 of the size of the one used to fold the body of the rocket. I used 30cm x 30cm (12in a side) sheet of kami for the rocket and a 15cm x 15cm piece of kami for the flame. This produced a final model that is 22cm (8.5in) long and 7cm (2.75) wide. It took me about 10 minutes to make this one too.
Instructions for the Origami Rockets
There are tutorial videos for over 300 models on the Paper Kawaii website, including both of these rockets. I'd encourage you to explore Chrissy's website and YouTube Channel to see what else you can find.  For convenience, I've included the videos for both origami rockets here.
I hope you enjoy folding both of these origami rockets. If you think they look complicated don't worry – this is origami, not rocket science.
Get Involved
I'd love to hear your views on these origami rocket models.  Feel free to let me know what you think in the comments below, or you find can me on Instagram or Twitter. Check out my Pinterest boards too!
You can also subscribe to the mailing list by entering your email in the box below: