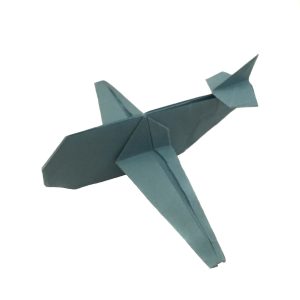 Both optimists and pessimists contribute to the society. The optimist invents the aeroplane, the pessimist the parachute.
George Bernard Shaw
About the Airplane
Somebody at work asked whether I could make them an origami airplane for some sort of display and I immediately thought of this one that I'd been planning to make for a while. It's a Jo Nakashima design. Sadly it doesn't fly (I did try), but it still looks good. Simple but effective.
Note: This post contains affiliate links.  Please see disclosure for more information.
Folding the Origami Airplane
Altbough this design looks very simple, it's actually an intermediate level design. It's derived from a Bird Base which is easy enough, but there are a few sink folds in it. If you struggle with open sinks, this is probably not the model for you, but if you're comfortable with these you should be able to fold it without any problems.  It takes about 20 minutes to fold the origami airplane.
Most paper types and sizes will do.  Jo Nakashima suggests using a sheet of ordinary origami paper or Kami, 15cm x 15cm (6in x 6in), but I've made the one in the picture from a piece of blue Tant paper I received as part of a sample pack with a recent order from The Origami Shop – check prices and availability here. This was 24cm x 24cm (7.9in x 7.9in) and produced an origami airplane that is 12cm (4.75in) long, with a wingspan of 15cm (6in).
I suggest using paper that is coloured the same on both sides to avoid the possibility of the underside of the paper showing as a coloured strip along the length of the wings.  That said, the paper Jo Nakashima used was dark blue on one side and light blue on the other, and the result was a light blue stripe along the wing that is surprisingly effective. Maybe experiment a bit and see which you prefer.
Note: If you are looking for easy origami airplanes, check out my review of the Awesome Paper Airplane Book for Kids.
Origami Airplane Instructions
Jo Nakashima has produced a video showing how to fold this origami airplane model, which is available on his YouTube channel. As usual for one of his videos, the quality is excellent. It is well paced, there are subtitles available, and each step is accompanied by a diagram in the top right hand corner showing how to do that step.
Get Involved
I'd love to hear your views on this origami airplane.  Feel free to let me know what you think in the comments below, or you find can me on Instagram or Twitter. Check out my Pinterest boards too!
You can also subscribe to the mailing list by entering your email in the box below:
Disclosure:
This page contains affiliate links and I may receive some small commission for purchases made through the links on this page. This hasn't affected my decision to recommend a product – I value my personal and professional reputation and would not endorse a product or supplier I did not believe in. There is no additional cost to you for purchasing through this page.
As an Amazon Associate, I earn from qualifying purchases.  Origami Expressions is a participant in the Amazon Services LLC Associates Program, an affiliate advertising program designed to provide a means for sites to earn advertising fees by advertising and linking to amazon.com, amazon.co.uk, amazon.ca. Amazon and the Amazon logo are trademarks of Amazon.com, Inc. or its affiliates.