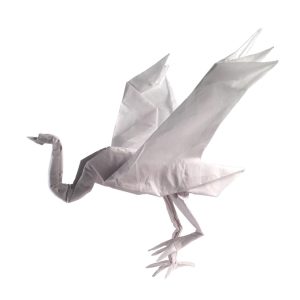 'A Peacock spreading its gorgeous tail mocked a Crane that passed by, ridiculing the ashen hue of its plumage and saying, "I am robed, like a king, in gold and purple and all the colors of the rainbow; while you have not a bit of color on your wings."
"True," replied the Crane; "but I soar to the heights of heaven and lift up my voice to the stars, while you walk below among the birds of the dunghill."
Fine feathers don't make fine birds.' 
Aesop's Fable The Peacock and the Crane
About the Advanced Origami Crane
"Wow."
You said it, didn't you? Most people do when they see this model for the first time.  And with good reason – it's gorgeous. 
I'd been saving this one up.  It's one of the most beautiful origami models I know. I couldn't decide what I was saving it for though, so I'm featuring it this week. This is a Crane, designed by Roman Diaz. In a spectacular reversal of Aesop's Fable, this crane is stunning. It is not your typical or traditional origami crane.
Regular readers of this blog might remember Roman Diaz – I have featured several of his designs before: the Hippocampus, the Secretary Bird, the Vixen, the Inflatable Pig, and the North American Cardinal. Like these other Diaz models, there's a real sense of character to this model. 
It's complex, but the level of detail is there not to slavishly create realism, but to build that character. One of the challenges in origami design is how to achieve a balance between detail and simplicity effectively. Roman Diaz is an absolute master at it and this origami Crane is one of his best.
Folding the Advanced Origami Crane
Getting the paper right is critical for this origami Crane. I've made it from several different types of paper and colours and although the model always looks good, in the end I always come back to Diaz's recommendation.  He suggests paper that is thin and almost translucent. His preference is for 'Sirgo paper' – a single sheet of tissue paper that has been coated with PVA glue.
I'd suggest starting with some tissue foil the first time, before moving onto the Sirgo paper for the final model. The Origami Shop has some good alternatives to using Sirgo paper. These include Tant , or Glassine, as in the picture above.
It's a high-intermediate level model, derived from a waterbomb base. Take the time to make sure that the paper is exactly square and fold accurately.  This will pay off when it comes to the steps that form the legs and tail feathers. If it's not folded accurately the crane will either have a messy tail or fat feet.
It takes about an hour to fold. A 20cm x 20cm sheet of paper will produce a crane that is about 10 cm long, with a wingspan of about 12cm.
If you want another intermediate level origami crane, try folding the celebration crane.
Advanced Orgami Crane Diagrams
There are both diagrams and a video tutorial available for this model:
Diagrams are available in Diaz's book Origami for Interpreters, available as an e-book from The Origami Shop – check prices and availability here
Jo Nakashima has produced a tutorial video showing how to fold this model. It's one of his earlier videos, so the quality isn't as good as some of his later ones, but it is still easily good enough to fold this model.
Get Involved
I'd love to hear your views on this beautiful origami crane or other advanced origami models. Feel free to let me know what you think in the comments below, or you find can me on Instagram or Twitter. Check out my Pinterest boards too!
You can also subscribe to the mailing list by entering your email in the box below: