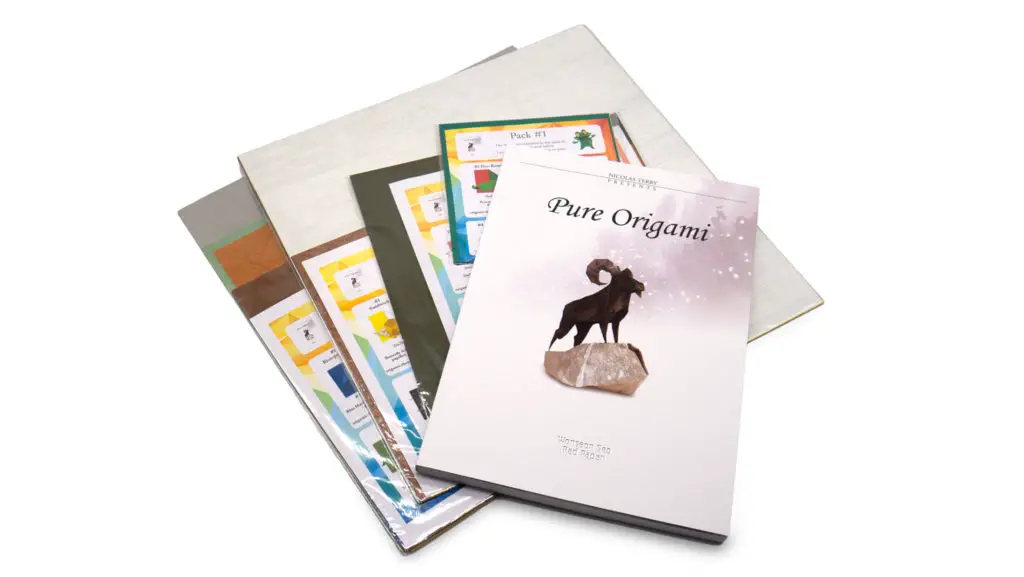 "The truth is rarely pure and never simple."
-Oscar Wilde
Pure Origami was a book I'd been looking forward to for a while. I'd seen some of Red Paper's designs around, but never got around to folding any of them. When Nicolas Terry published this, it was my chance to give some of them a go.
Note: This post contains affiliate links.  Please see disclosure below for more information.
Who is Red Paper?
Red Paper is the origami pseudonym for the Korean professional origami artist Wonseon Seo. His wife Lee In Kyung goes by the name of White Paper and they have more than 20 books to their name between them. As he explains in the Introduction to Pure Origami the word 'origami' has, until relatively recently, been viewed negatively in Korea as it's originally a Japanese word, and this has had an effect on how origami has developed as an artform in Korea. Today, the difficulties seem to have been overcome and Won Seon Seo plays a leading role in the Paper Culture Foundation – the major origami society in Korea.
First Impressions of Pure Origami
This is Volume 5 of the Happy Folding Collection, published by Nicolas Terry's Passion Origami and only sold through the Origami-Shop here. Like all of the books Terry puts out, it's beautifully presented and the production values are extremely high. I think Terry aims to make sure that the books he publishes are inviting and when you get the book in the post and flick through it for the first time, it should feel like An Event. In this respect, as usual, he absolutely nails it.
There are large, full colour photos of every model included at the front of the book. The diagrams are clear, colourful, and well laid out, with plenty of white space so none of the pages feel cluttered. Every page is crisp and glossy.
One of the sections I look forward to reading in these books is the introduction by the author. This gives an insight into their background and design philosophy. In this book, this section is supplemented by another whole section on the exhibitions that Red Paper and White Paper have staged over the years.
The Models in the Pure Origami Book
There are forty models in the book, grouped by type. The first category is action models, which feels like a bit of an odd collection, given that the rest of the book is given over to different types of animal. Models like spinners and catapults almost seem a little out of place. Nevertheless, there are some innovative designs here and they form an interesting and welcome warm up to the rest of the book.
The models in the book are grouped by different types of animal. This is a refreshingly different way of grouping the designs in an origami book together and highlights the range of models on offer. These are the models listed in the book:
Action Models
· Flapping Bat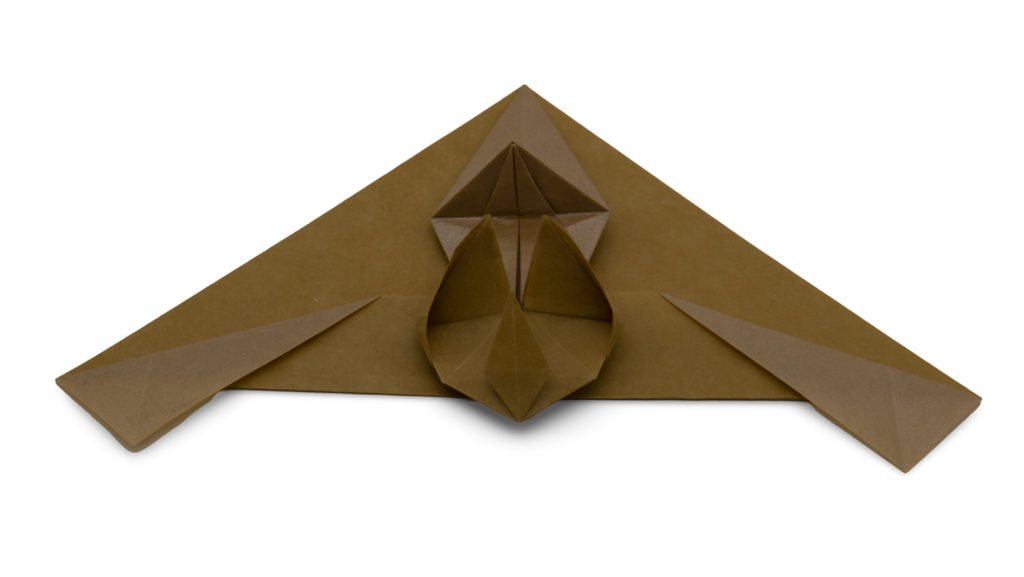 · Spinners 1, 2, & 3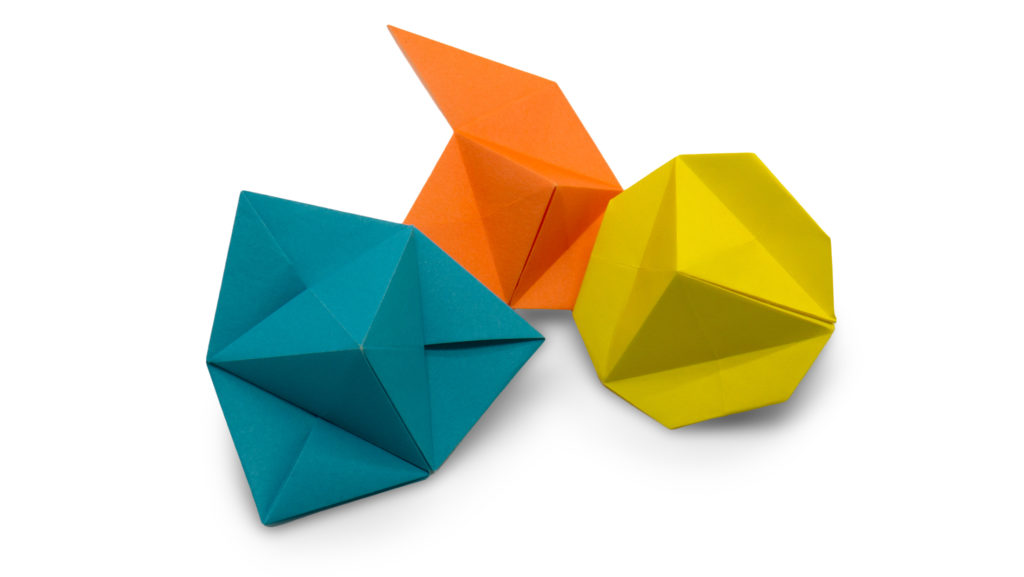 · Pop-up Heart Box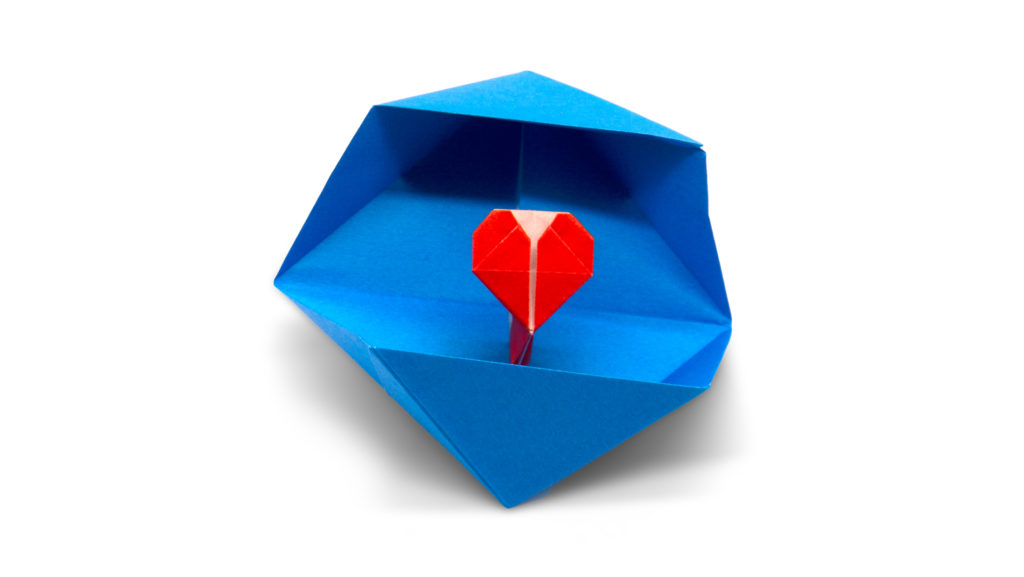 · Catapult
Sea Life
· Sea Turtle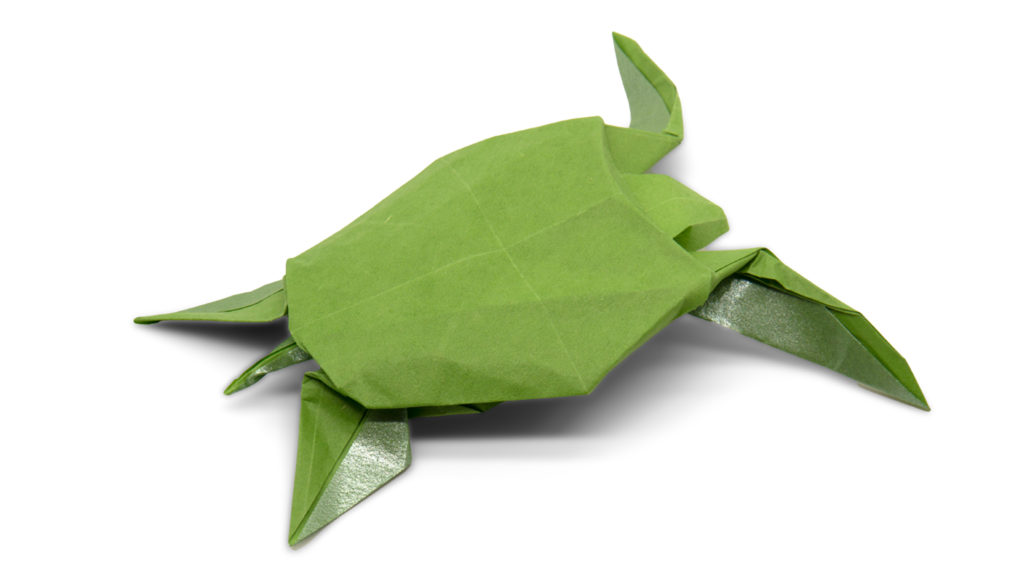 · Walrus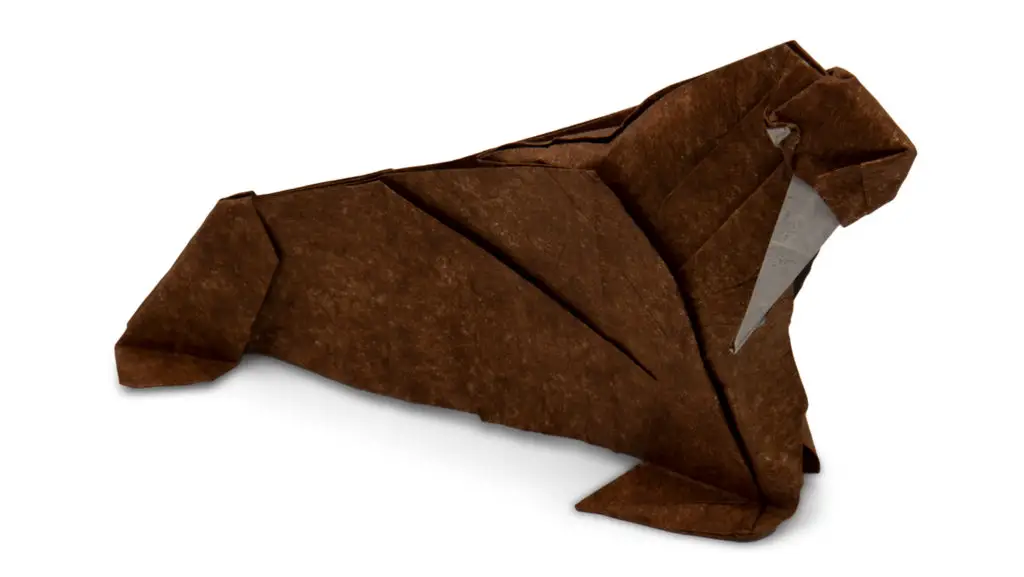 · Ocean Sunfish
· Goldfish
· Blue Marlin
· Humpback Whale
· Whale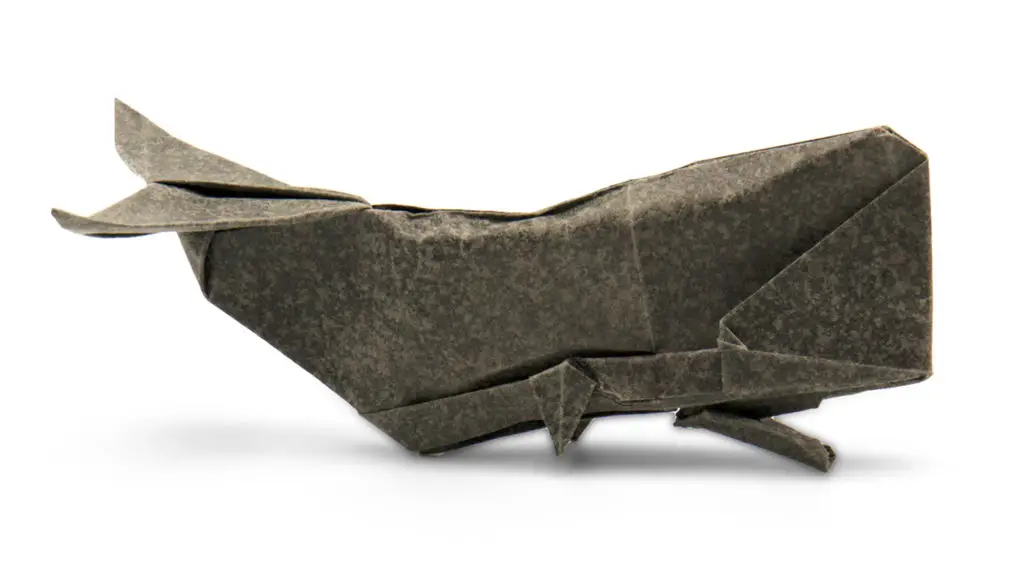 · Dolphin 1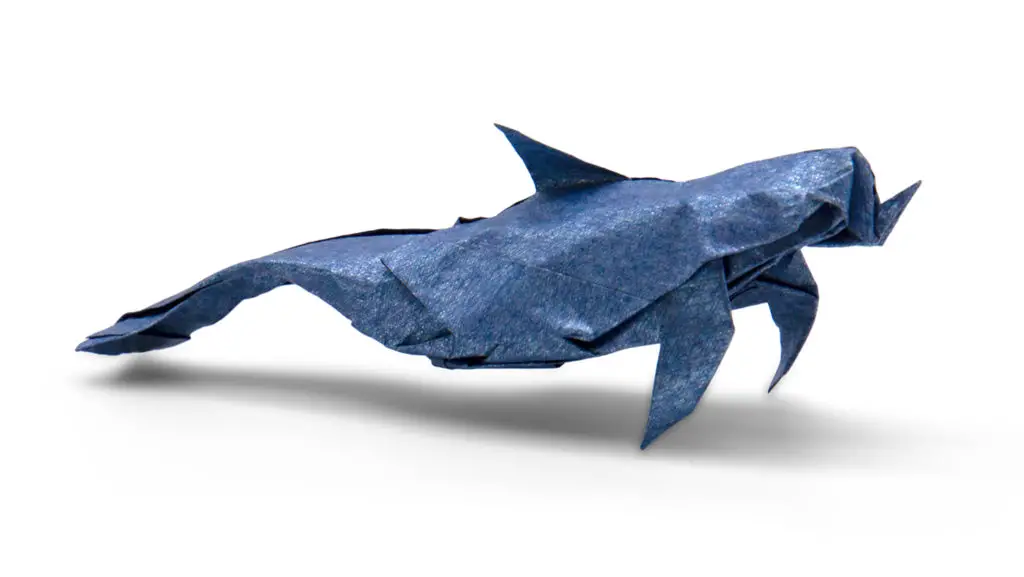 · Dolphin 2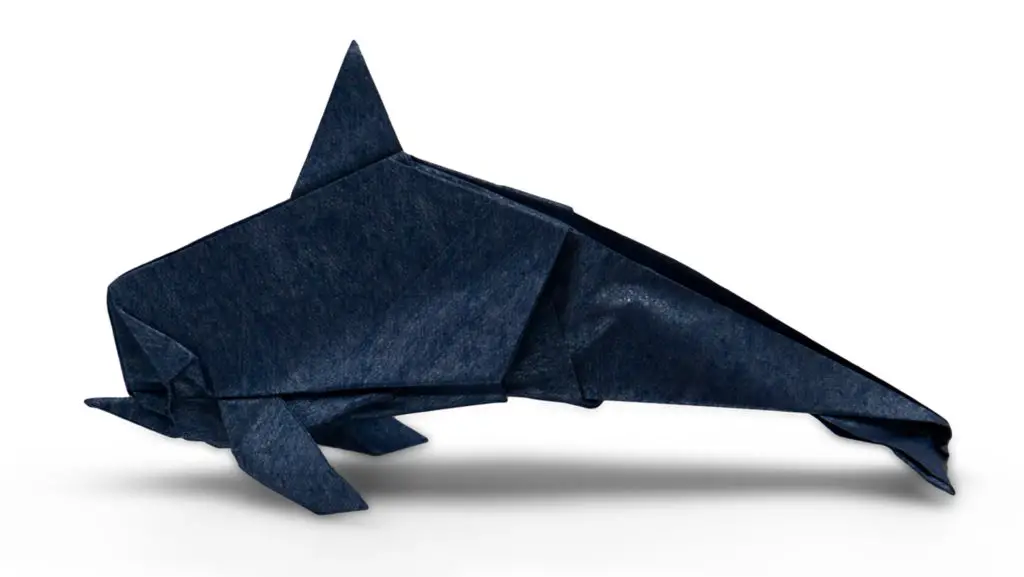 · Flying Fish
· Butterfly Fish
· Box Fish
Birds
· Peacock
· Flying Swallow
· Swallow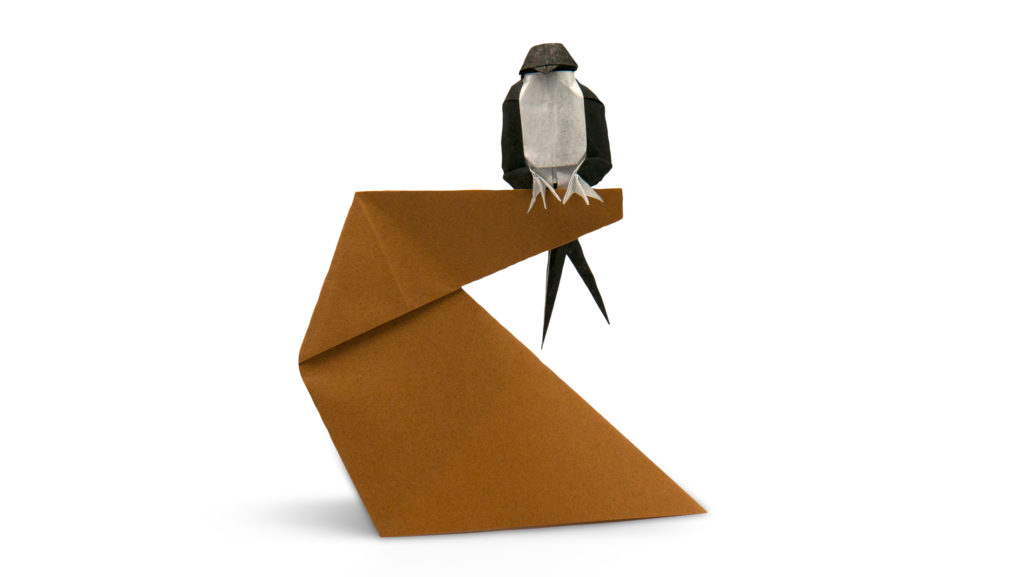 · Flying Crane
· Owl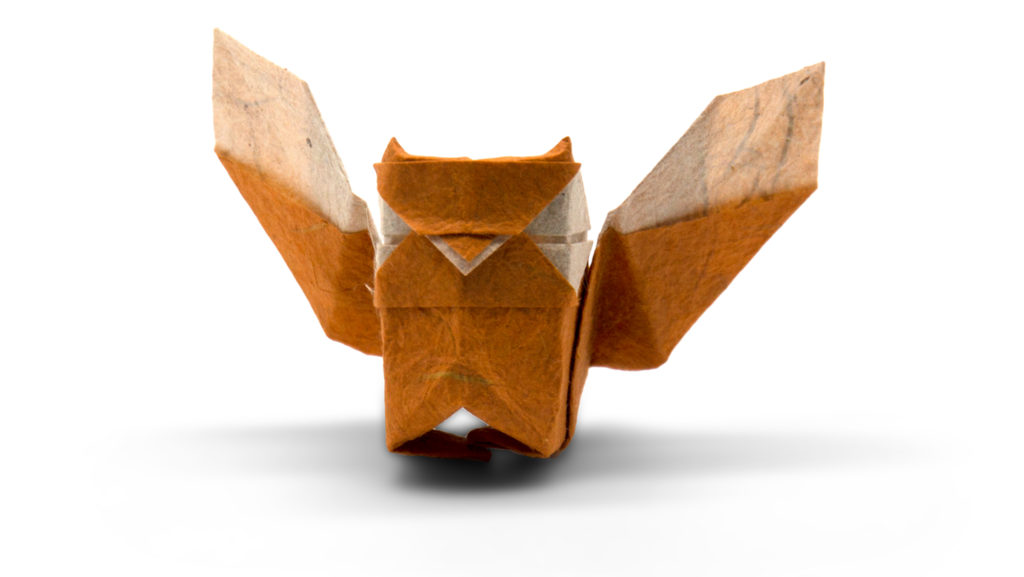 Mammals
· Mouse
· Dog
· Asian Elephant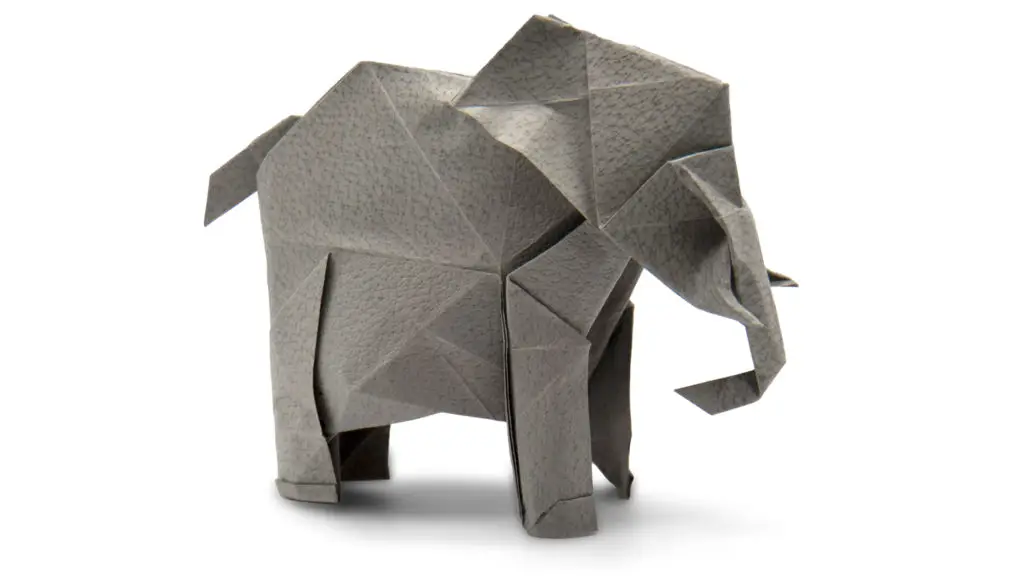 · Giraffe
· Hedgehog
· African Elephant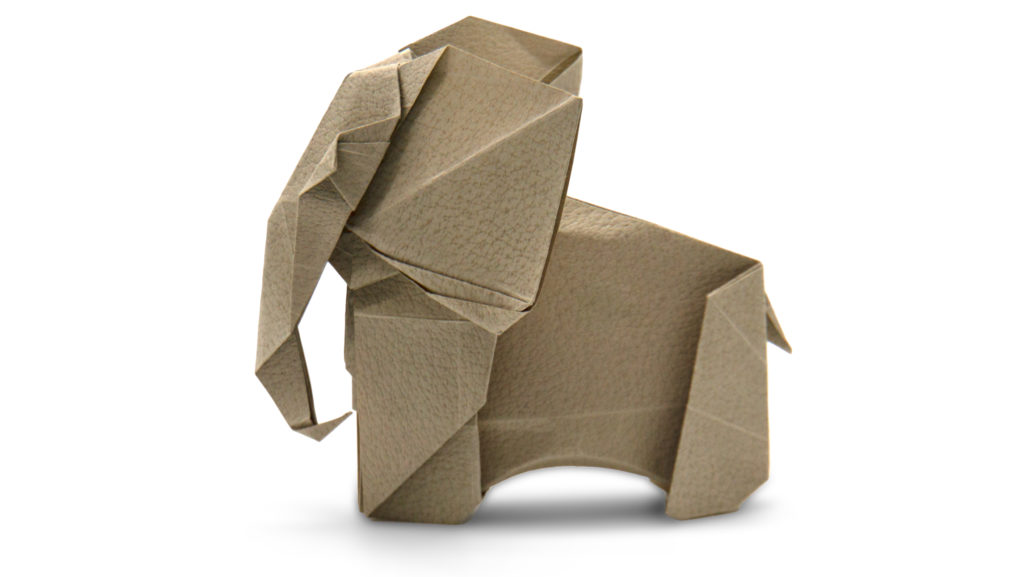 · Gorilla
· Flying Squirrel
· Ibex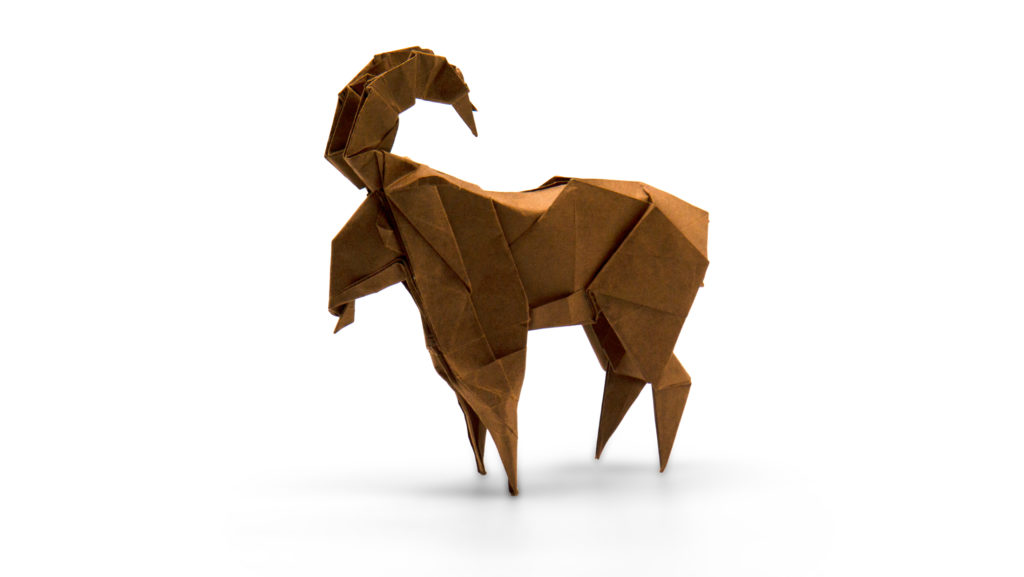 · Deer
· Siberina Tiger
Reptiles, Insects and Other Animals
· Grasshopper
· Gecko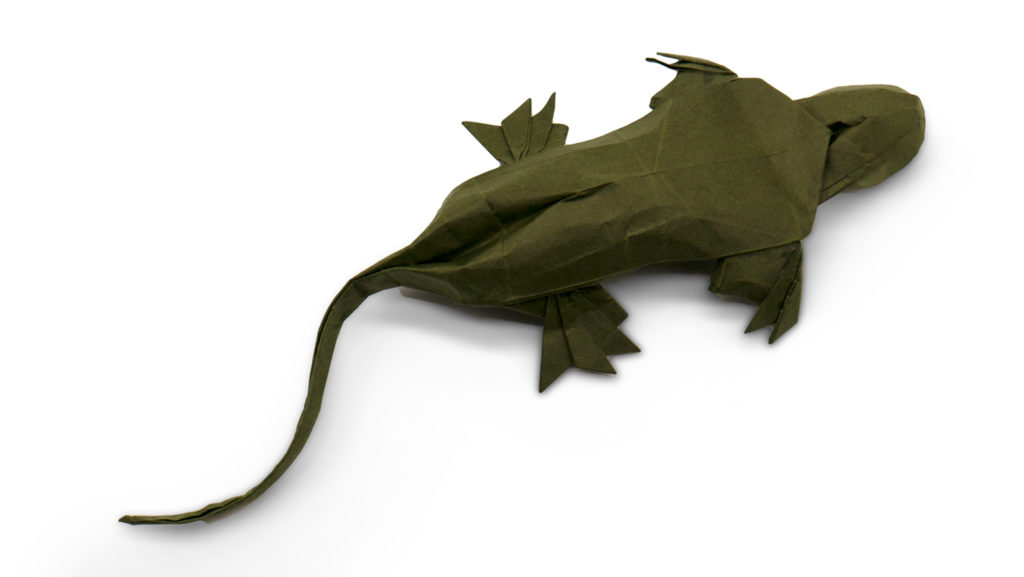 · Chameleon
· Western Dragon
· Eastern Dragon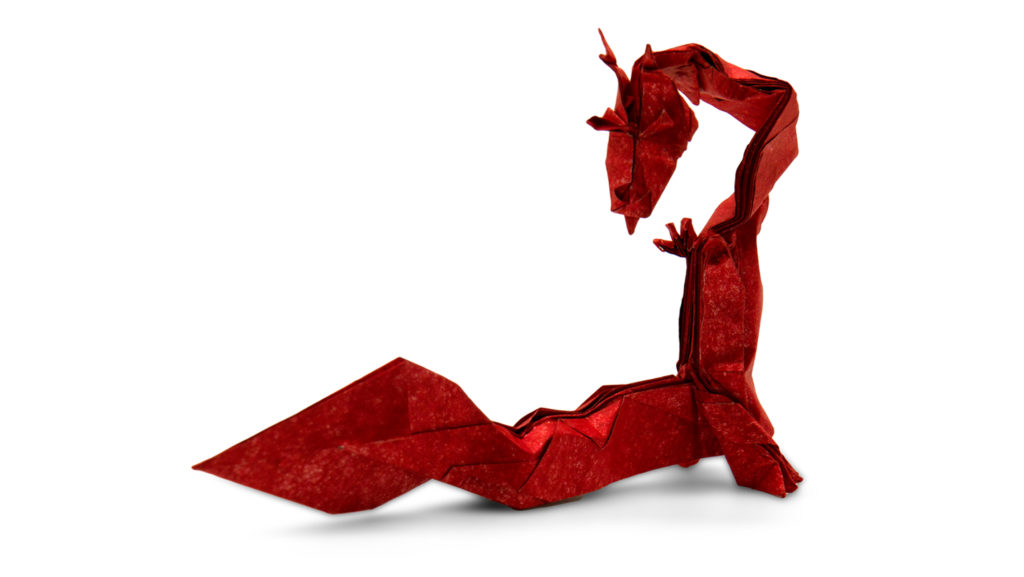 Pure Origami Book Review
There is a range of difficulty levels within each group, so although the book deviates from the convention of having easier models at the beginning of the book and harder ones at the end, there is still some progression available.
Having said that, none of the models in the book are simple! This is not a book for beginners (if you are looking for a book to get started in origami, check out my book, Origami Made Simple). The action models at the beginning of the book are low intermediate level, as are a few of the models dotted throughout the book such as the Peacock. Most of these models are firmly in the intermediate or complex category.
Although the instructions tell you how to fold each model, many of them will need careful shaping. Be prepared to spend some time on this! I recommend wet-finishing some of the last few folds and the shaping to get the best results.
Pure Origami is available as an ebook or paperback. If you choose to get a physical copy, there is the option to buy a pack of papers as well, which I strongly recommend. Every paper type has been specifically chosen to suit each model and usually conform to the author's recommendations.
Usually the paper sold by Origami-shop.com is flawless, but on this occasion two sheets had been trimmed poorly and weren't square, and there was one sheet missing. This is the first time I've ever had an issue with an order from them though, and I'd have no hesitation in ordering another pack of papers with a book in future.
Overall, it's a really good book with some interesting models. Not a beginner's book, but if you're a confident folder and you're prepared to put the time in to folding and shaping, you'll discover a collection of really interesting animal models to enjoy. Don't forget to order the paper pack.
Get your copy at Origami-Shop here.
Get Involved
I'd love to hear your views on the Pure Origami book.  Have you used any of the other Passion Origami books? Feel free to let me know what you think in the comments below, or you find can me on Instagram or Twitter. Check out my Pinterest boards too!
You can also subscribe to the mailing list by entering your email in the box below:
Disclosure:
This page contains affiliate links and I may receive some small commission for purchases made through the links on this page. This hasn't affected my decision to recommend a product – I value my personal and professional reputation and would not endorse a product or supplier I did not believe in. There is no additional cost to you for purchasing through this page.
As an Amazon Associate, I earn from qualifying purchases.  Origami Expressions is a participant in the Amazon Services LLC Associates Program, an affiliate advertising program designed to provide a means for sites to earn advertising fees by advertising and linking to amazon.com, amazon.co.uk, amazon.ca. Amazon and the Amazon logo are trademarks of Amazon.com, Inc. or its affiliates.