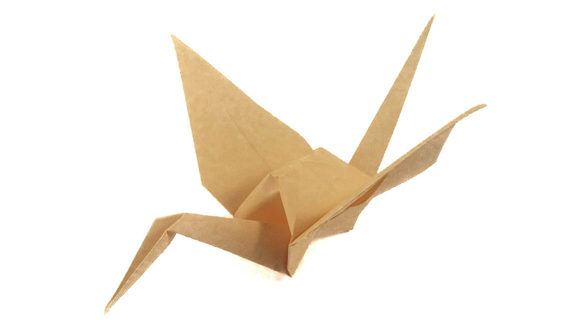 "I will write peace on your wings and you will fly all over the world"
-Sadako Sasaki
Note: This post contains affiliate links.  Please see disclosure for more information.
About the Traditional Origami Crane
Perhaps the most famous origami model of them all, the origami Crane is known across the world and one of the first ones that people ask for when they find out you know origami.  The crane is also one of the most attractive of the traditional models, with a simple, uncluttered appearance. It is used in the logo for the British Origami Society.
The crane is a symbol of long life.  Several million traditional origami cranes are sent to the Sadoko memorial statue in Japan every year. 
Many people make it their new year's resolution to fold 1,000 cranes because legend has it that if you do your wish will be granted.  (If you are thinking about folding  a thousand paper cranes, check out this kit that also includes string to make a cascade of cranes.)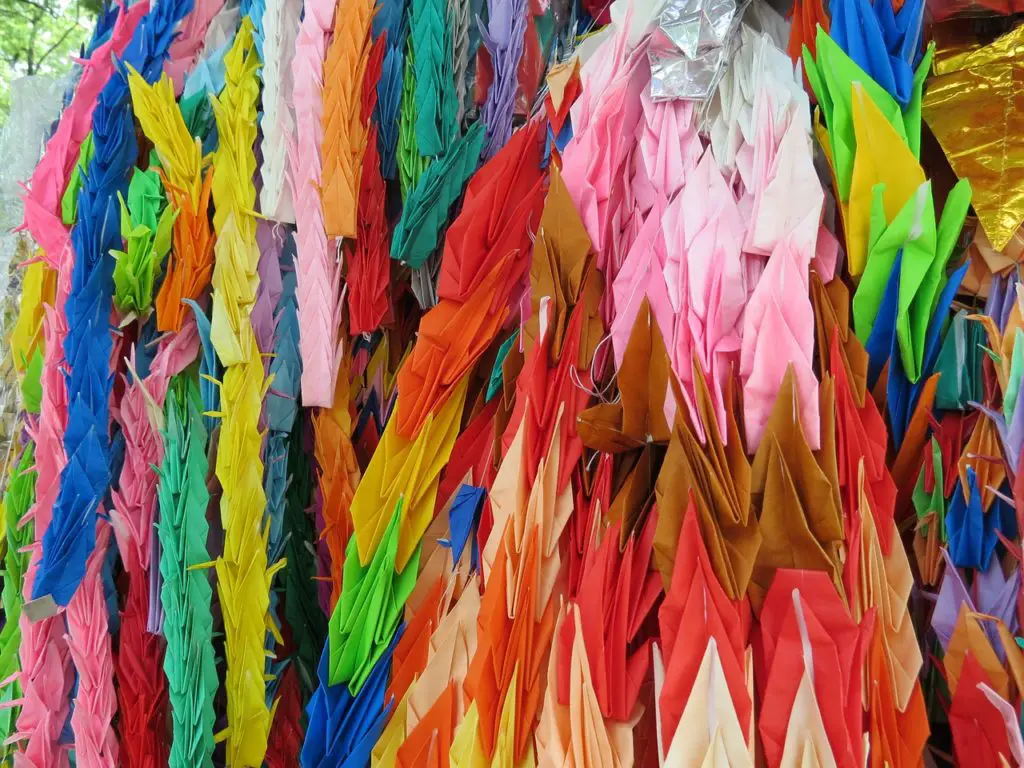 Traditional Origami Crane Diagrams
In my new book, Origami Made Simple, you can find diagrams showing how to fold the origami crane.  Additionally, since the book is designed for people that are new to origami, it includes written instructions along with the diagrams.
The 40 models in the book progress in difficulty with each chapter, starting at 10 steps or less, up to a maximum of 25 steps.  The origami crane is in the last chapter.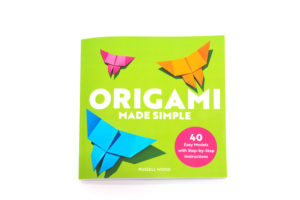 Get Origami Made Simple in the US here.
Get Origami Made Simple in the UK here.
Traditional Origami Crane Crease Pattern
As there are not many steps after folding the Bird Base, you can see the creases of the Base very clearly in the crease pattern.

Origami Crane Video Instructions
I did finally do a video showing hold to fold a traditional origami crane.  Check it out!
Some Shaping ideas for the Origami Crane
The traditional origami crane is one of those models that is so iconic that shaping it probably isn't necessary, and overworking the paper might just look odd. The angular lines of the model are part of its appeal. Nevertheless, there are no hard and fast rules on shaping an origami model. Experiment a little. See what works for you.
Some suggestions for shaping the traditional origami crane:
Try curling the wings around a pencil to make them feel more like a bird's wings and less flat
Does the model look better if you adjust the angle of the head, neck or tail?
Experiment with the head shape. Can you make this feel less angular and more natural? Can you give it a separate head and beak?
Does putting some small pleats in the wings give the impression of feathers?
Can you soften the edges of the neck and tail to make them less straight?
It's also fun to experiment making origami peace cranes out of different origami paper.  You can use paper that are solid colors, fancy designs, music, or just about anything.  It just needs to be cut into a square. 
You don't need to buy origami cranes, you can make them yourself.  It's not too hard and there are plenty of ways to be creative with it.
More Crane Origami Models
While the flapping bird is technically not a crane, many people get this confused and refer to it as the flapping crane.  It's another popular traditional model and actually a bit easier to fold than the crane.
If you have mastered the traditional origami crane and are looking for some more challenging models, you can try: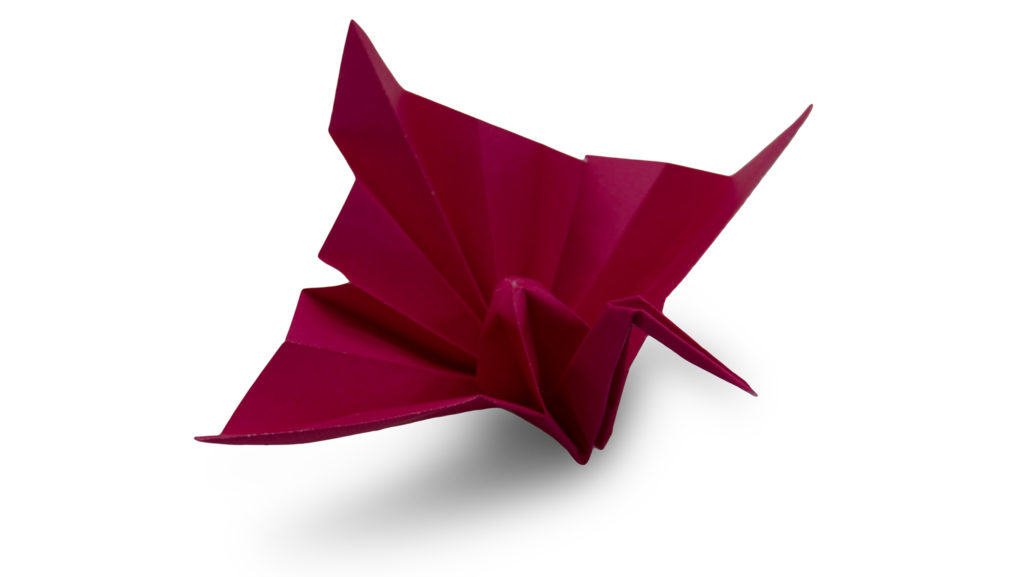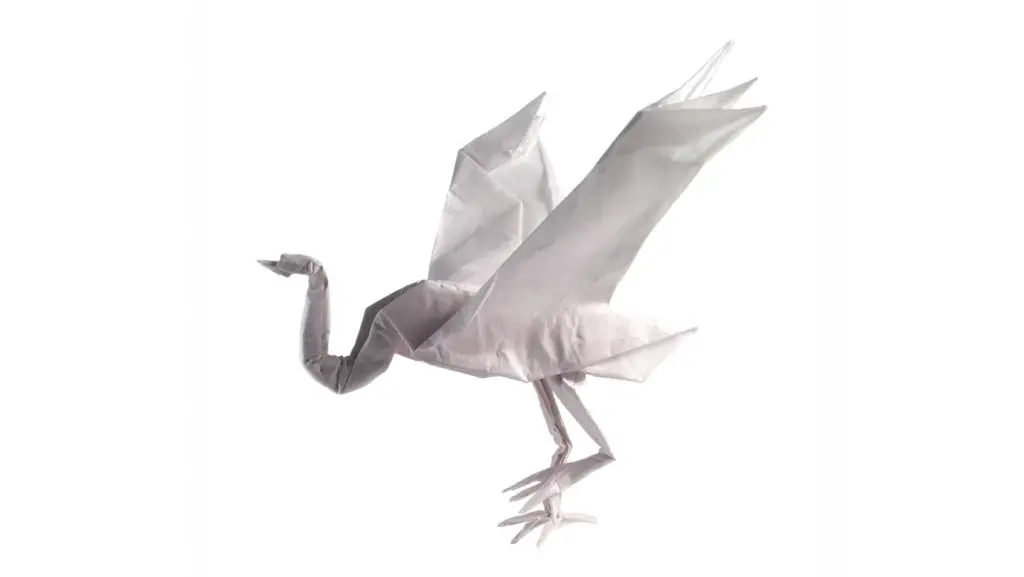 Get Involved
I'd love to hear your views on the traditional origami crane or other traditional origami models.  Feel free to let me know what you think in the comments below, or you find can me on Instagram or Twitter. Check out my Pinterest boards too!
You can also subscribe to the mailing list by entering your email in the box below:
Disclosure:
This page contains affiliate links and I may receive some small commission for purchases made through the links on this page. This hasn't affected my decision to recommend a product – I value my personal and professional reputation and would not endorse a product or supplier I did not believe in. There is no additional cost to you for purchasing through this page.
As an Amazon Associate, I earn from qualifying purchases.  Origami Expressions is a participant in the Amazon Services LLC Associates Program, an affiliate advertising program designed to provide a means for sites to earn advertising fees by advertising and linking to amazon.com, amazon.co.uk, amazon.ca. Amazon and the Amazon logo are trademarks of Amazon.com, Inc. or its affiliates.