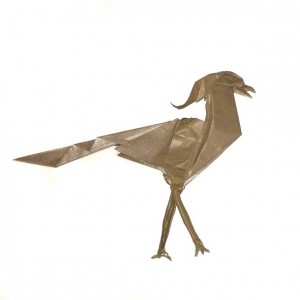 "No littering, no chewing, no fruit or wrappers in royal suites, please."
Secretary Bird, Disney's Bedknobs & Broomsticks
The Origami Secretary Bird Model
Today's origami model is another one from one of my favourite origami designers – Roman Diaz. This is the Secretary Bird. It's the fourth of his models I've featured on this site (and it won't be the last), the others being the Vixen, the North American Cardinal, the Advanced Origami Crane, the Inflatable Pig, and the Hippocampus.
Diaz's Secretary Bird, like so many of his designs, is very striking. His models can be detailed and complex, but he uses that detail as a means of interpretation rather than lifelike accuracy. He encourages people who fold his designs to adopt the same approach – he even called one of his books Origami for Interpreters!
Folding the Secretary Bird
This is a complex model. Diaz rates it 4 out of five for both technical and artistic difficulty. This is generally down to the level of accuracy required, rather than any particularly hard steps, although there is one sequence of moves where some trapped pleats of paper have to be released to form the wings. This is challenging as the Secretary Bird has to be folded from quite thin paper, it is very easy to rip the paper. There are also several layers of paper in the head, so this has to be folded very carefully from an early stage to allow for these layers, otherwise the head will split open at the last minute.
Diaz doesn't make a clear paper recommendation for this design.  He just says he has folded it with fine papers such as kozo, preferably treated with methyl cellulose to make it more robust. I agree with this suggestion. I think thinner paper gives the finished model a more delicate appearance, although those steps noted above become much harder with very thin paper. I have folded this one out of foil paper from Origami-shop.com, and I think this paper was slightly too thick.  It was difficult to form the eyes according to the diagrams so I had to improvise. The layers of paper are thicker around the toes than I would like. On the whole though, I'm pleased with it.
Origami Secretary Bird Instructions
The origami secretary bird diagrams for the Secretary Book are in Roman Diaz's book Origami for Interpreters, available from Origami-shop.com.
Get Involved
I'd love to hear your views on this origami secretary bird or any other Roman Diaz model. Feel free to let me know what you think in the comments below, or you find can me on Instagram or Twitter. Check out my Pinterest boards too!
You can also subscribe to the mailing list by entering your email in the box below:
Disclosure
This page contains affiliate links and I may receive some small commission for purchases made through the links on this page. This hasn't affected my decision to recommend a product – I value my personal and professional reputation and would not endorse a product or supplier I did not believe in. There is no additional cost to you for purchasing through this page