"I'll huff and I'll puff and I'll blow your house in."
-The Big Bad Wolf, Three Little Pigs, Anon
Well this is a Surprise…
Yes, I am still here. It has been way too long since I wrote anything for this blog and I started 2019 intending to do much more folding and writing. Well, so much for that. 
It's the beginning of February and I'm finally getting around to my first post of the year. Oops. Oh well, plenty of the year left to do better. To begin with, here are Three Little Origami Pigs!
Note: This post contains affiliate links.  Please see disclosure for more information.
Origami Pigs and the Chinese New Year
As I write this, it's the start of the Chinese New Year and it's the Year of the Pig! Just as I've done with the origami rooster and origami monkey in previous years, I thought I'd mark the date with an appropriately themed origami model – in this case, three little origami pigs.
The Traditional Origami Pig
The first pig is a traditional design and one that most people come across quite early in their origami journey. This one has really grown on me over the years.
I didn't like it when I first started doing origami, and for a long time, I wasn't even sure which way round it was supposed to be. For some reason, it just didn't click with me.  Thankfully these days I'm not quite so anatomically illiterate and I do quite like it. It's simple and effective.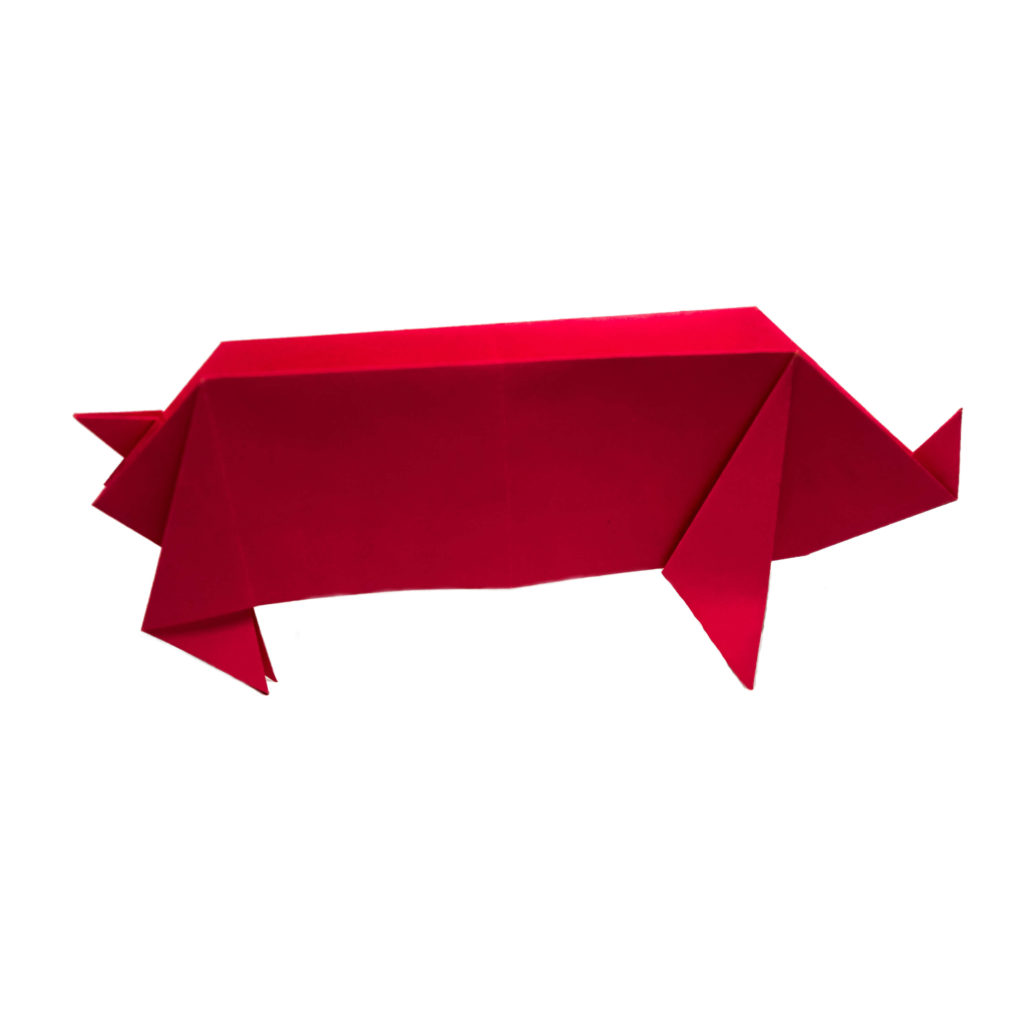 Folding this one is about as simple as it gets.  It's a five-minute model, suitable for anybody to fold including children. Any paper will do. In this case, I've made it from traditional 15cm x 15cm (6in) origami paper.  This produces an origami pig that is 12cm (about 4.75in) long and 5cm (about 2in) high.
I will do a video showing how to fold this design step by step, but until then, you can find the instructions for this traditional model in a lot of simple origami books, or in this video from the HappyPuppyTruffles Youtube Channel. I like the use of two camera angles in this video. It's a nice touch and some people might find this useful.
The Dollar Origami Pig
This is a John Montroll Design. I've featured a couple of Montroll designs here before – including the origami flamingo, origami angelfish, and origami stegosaurus. Like most Montroll designs, the folding sequence is effective, and the final model has a fairly uncluttered look, which is why I like it. It definitely looks a bit more 'Piggy' than the traditional origami pig though.
The Dollar Bill Origami Pig takes a bit longer than the traditional model. The main reason for this is the paper. Although folding from dollar bills creates a really interesting effect, the paper itself is a pain to work with as it's specifically designed to be durable and resist people's attempts to fold it up! Despite this, it's an intermediate level model that will take about fifteen minutes to fold. There are a couple of offset rabbit ear folds in there, so if you're ok with those, you're good to go. A 1 dollar bill creates a pig that stands about 3cm (around 1.25in) high, 7cm (approx 3.75in) long, and around 3cm (about 1.25in) wide.
The diagrams for this model are in Montroll's book Dollar Bill Animals in Origami which is available on Amazon. I have to admit I had completely forgotten I had this book. Now that I've rediscovered it, you can expect to see a few more of these designs on here in future – at least until I run out of dollar bills.
The Inflatable Origami Pig
This one is by another of my favourite origami designers – Roman Diaz. You may remember my posts about his Origami Cardinal, Secretary Bird, and Hippocampus. 
Given where we started, with the Big Bad Wolf trying to blow down the Pigs' houses, it's a bit unfortunate for the third of the Three Little Origami Pigs that this time, we have to blow into him! This model is a bit different to the other two, and I couldn't resist having an inflatable origami pig as one of the three.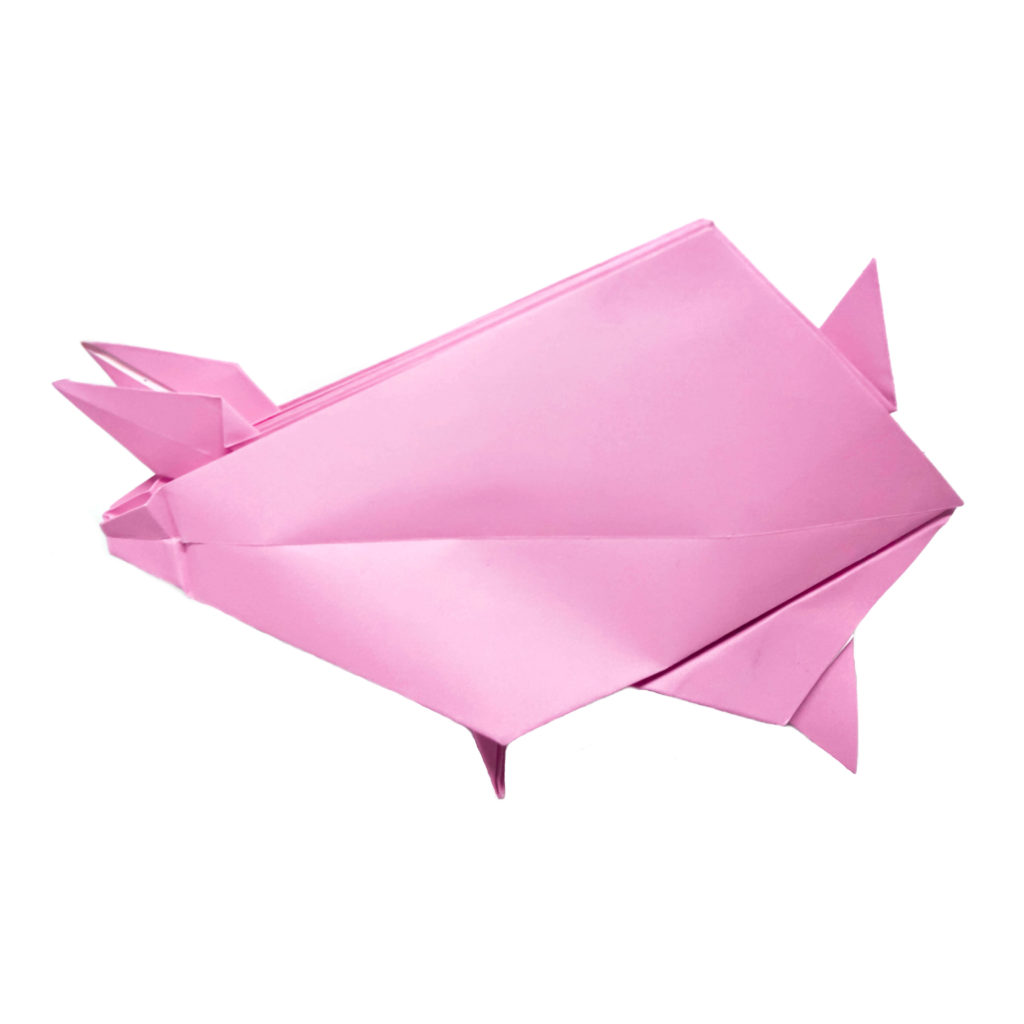 It's a bit more of a stylised design than the other two paper pigs, without being complex. This is another intermediate level model. It takes about 15 minutes to fold.
As you're going to inflate it (like you do with a waterbomb), you need to think a bit more carefully about your paper choice for this one. Ordinary origami paper works adequately well for this, but you need something with a fair degree of stability to it, so I wouldn't use anything thinner than that. A 24cm square piece of paper will create an Inflatable Origami Pig that is 14cm (5.5in) long, 8cm (just over 3in) high, and 5.5cm (about 2in) wide when inflated. 
You can find the instructions for this book in Diaz's book Origami Essence, which is available from the origami shop. (Click here to check prices and availability.) I thoroughly recommend this book, it has an excellent selection of models, including this Origami Vixen, which I have featured on this blog before.
I hope you enjoy folding the Three Little Origami Pigs.  Just remember that if you choose to make little houses for them, maybe use bricks rather than origami.  And look into the local wildlife before you start.
Get Involved
I'd love to hear your views on these origami pigs.  Which origami pig model is your favourite? Do you prefer a simple origami pig or something more challenging? Feel free to let me know what you think in the comments below, or you find can me on Instagram or Twitter. Check out my Pinterest boards too!
You can also subscribe to the mailing list by entering your email in the box below:
Disclosure
This page contains affiliate links and I may receive some small commission for purchases made through the links on this page. This hasn't affected my decision to recommend a product – I value my personal and professional reputation and would not endorse a product or supplier I did not believe in. There is no additional cost to you for purchasing through this page.
As an Amazon Associate, I earn from qualifying purchases.  Origami Expressions is a participant in the Amazon Services LLC Associates Program, an affiliate advertising program designed to provide a means for sites to earn advertising fees by advertising and linking to amazon.com, amazon.co.uk, amazon.ca. Amazon and the Amazon logo are trademarks of Amazon.com, Inc. or its affiliates.