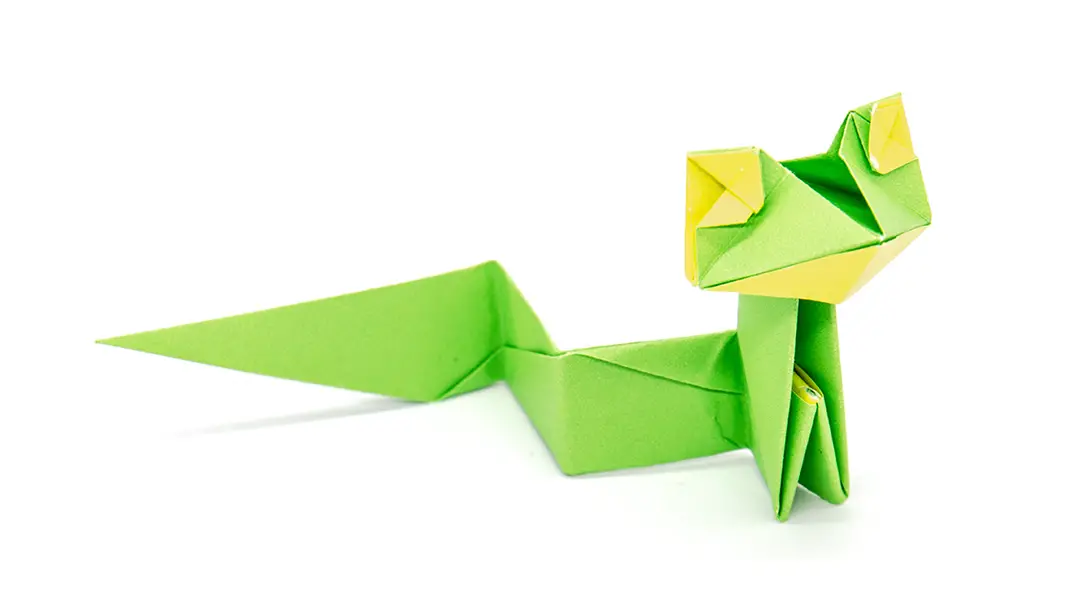 "I like to keep a bottle of stimulant handy in case I see a snake – which I also keep handy."
-W. C. Fields
About the Origami Snake
There is a very simple traditional origami snake that is basically a square sheet of paper in a diamond orientation, folded over and over like a fan. Throw in a reverse fold to give it a neck and another to make the head. Simple, but effective. If you make it from paper that's coloured differently on each side you even get a rudimentary pattern on the snake's body. I first learned to make one of those in school – probably when I should have been paying attention in cookery classes or something.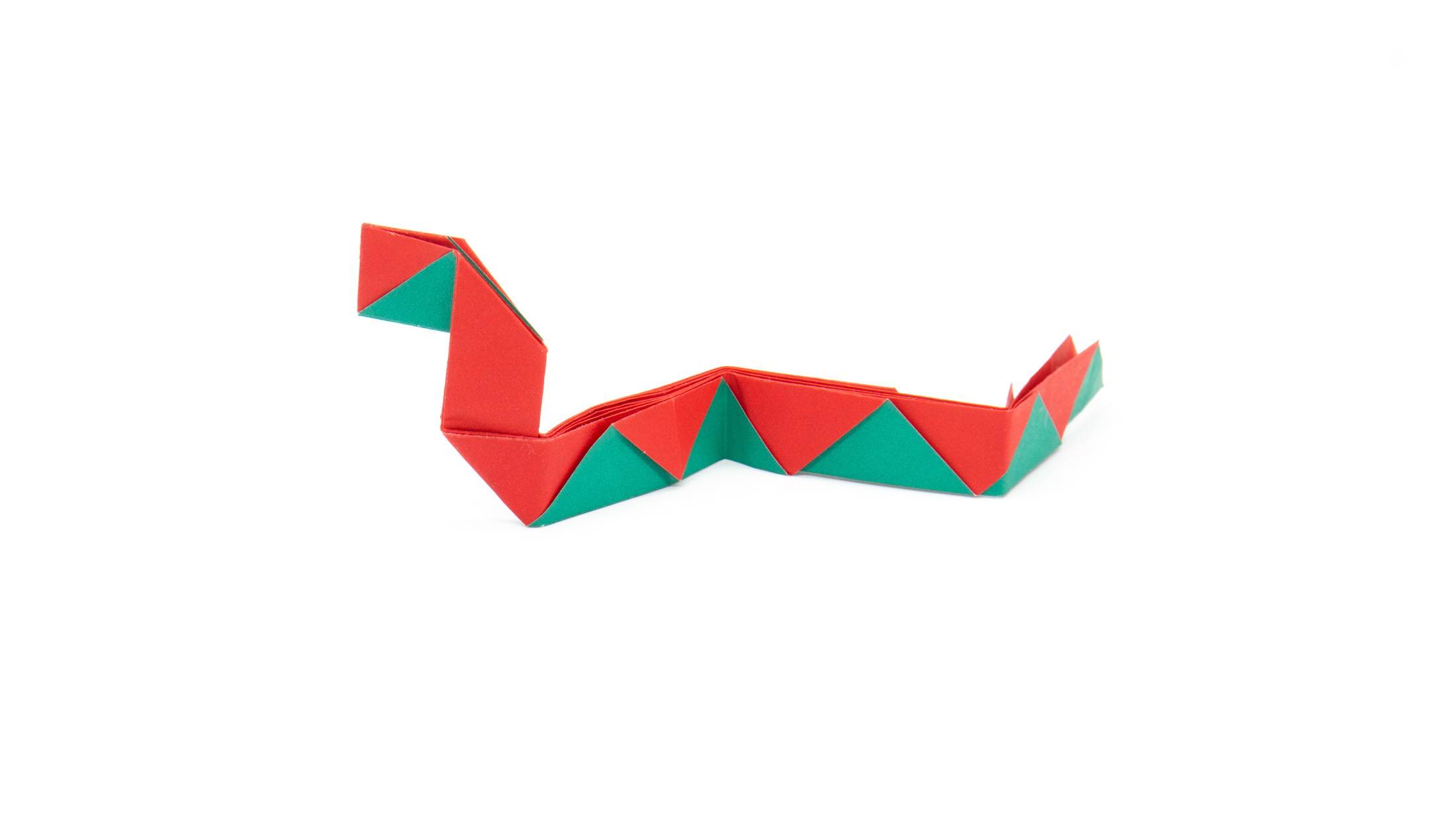 The origami snake designed by Gen Hagiwara is almost as simple, but has a lot more character! I like origami models that have something 'extra' going for them. It's not enough for it to just be a representation of something – it needs to be engaging in some way. A sense of motion, a story or emotion, or just a quirky sense of fun, like this origami snake. Those big, bulbous eyes and oversized head that looks a bit more like a frog almost make it feel like something out of a cartoon.
Note: This post contains affiliate links, please see disclosure for more information.
Folding Gen Hagiwara's Origami Snake
For people who know about these things, this model is basically a Kite Base with a strip graft running down the middle. The shorter point becomes the head, with squash-folds for the eyes and reverse folds added to create the rest of the body. See – I told you it was simple!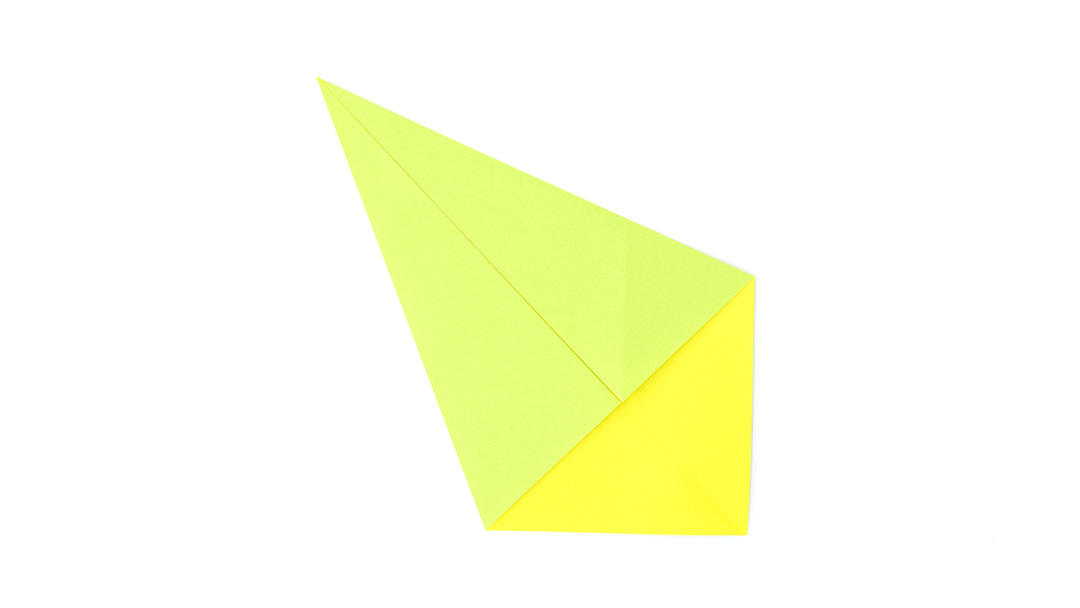 Ok, that's a bit flippant, but honestly, I'd say this is a perfect model for anyone that's got used to doing origami from YouTube videos and is looking to improve their skills by following diagrams. It is easy to make, doesn't need special paper and the instructions are easy to follow. It takes about ten minutes to make this model.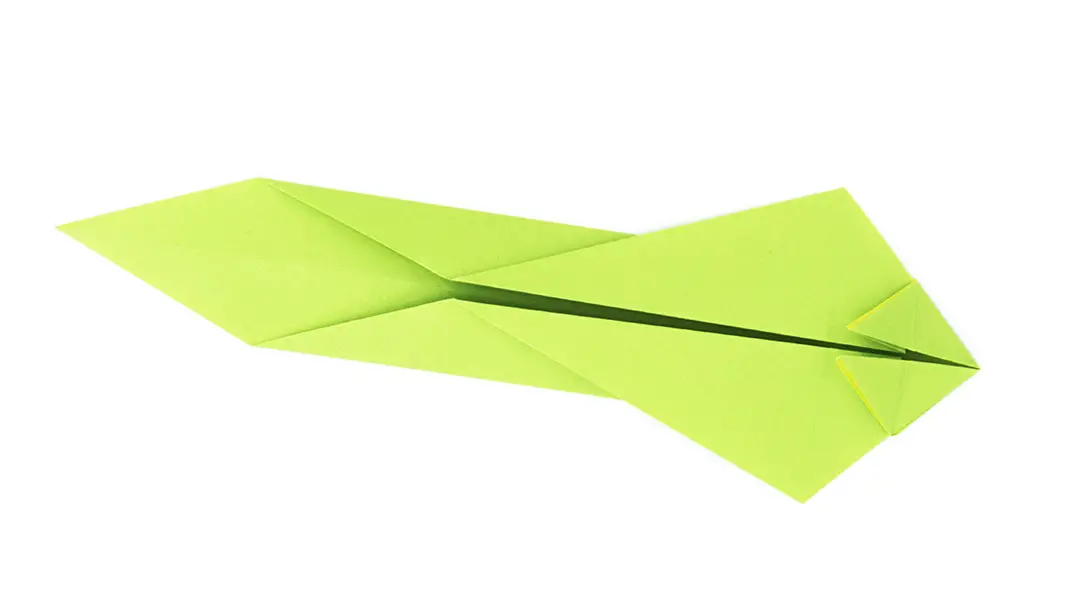 Ordinary origami paper or kami will do for this model. Use paper that is a different colour on each side, or white on the back. This makes the eyes stand out. As you can see, I've used green and yellow paper because I think it makes the eyes look much more interesting than plain white. Green and red paper would give the snake much more of a creepy look.
Unless you are an aficionado of 'Tinygami' or you have fingers like toothpicks, don't go smaller than a 15cm (6inch) square. This will create a snake that stands 4.5cm (just under 2in) tall, and about 10cm (4in) long, depending on where you put the folds that shape the body and make it stand up.
Click on the video for a 360-degree view of Gen Hagiwara's origami snake.
Diagrams for Gen Hagiwara's Origami Snake
You can find the origami snake instructions in Gen Hagiwara's book Spirits of Origami.  This is one of several models from the book that I'm planning on featuring on this site soon. I've had this book for ages and actually wrote about a Swallow some time ago, but I've recently rediscovered it on the bookshelf and decided to give the models in it the attention they deserve.
This is one of the easier models in the book, and that's why I say it's a good stepping stone for anyone who's looking to advance their skills in origami. The book has a progression of models and this is a good place to start getting comfortable with diagrams before moving onto some of the more complex stuff.
Spirits of Origami by Gen Hagiwara is available from origami-shop.com here, and they ship internationally.
More Easy Origami Snakes
If you enjoyed folding this simple origami snake, you might also enjoy these models:
Get Involved
I'd love to hear your views on this origami snake.  Feel free to let me know what you think in the comments below, or you find can me on Instagram or Twitter. Check out my Pinterest boards too!
You can also subscribe to the mailing list by entering your email in the box below:
Disclosure:
This page contains affiliate links and I may receive some small commission for purchases made through the links on this page. This hasn't affected my decision to recommend a product – I value my personal and professional reputation and would not endorse a product or supplier I did not believe in. There is no additional cost to you for purchasing through this page.
As an Amazon Associate, I earn from qualifying purchases.  Origami Expressions is a participant in the Amazon Services LLC Associates Program, an affiliate advertising program designed to provide a means for sites to earn advertising fees by advertising and linking to amazon.com, amazon.co.uk, amazon.ca. Amazon and the Amazon logo are trademarks of Amazon.com, Inc. or its affiliates.