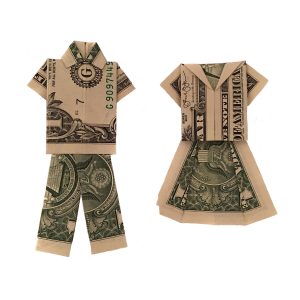 Sweater, n. Garment worn by child when its mother is feeling chilly.
-Ambrose Bierce, The Unabridged Devil's Dictionary
About the Money Origami Clothes
Claudia, over at Myfolds has been doing a fair amount of money origami recently, so I thought I'd do some myself this week. Thanks for the inspiration Claudia!
Note: This post contains affiliate links.  See Disclosure below for more information.
Money origami has featured on this blog before.  I folded a Baby Buggy designed by Dominik Meissner, a dollar bill origami cross, and a photo of George Washington in a frame, designed by Gay Merrill Gross which I folded at the OrigamiUSA Convention last year. These models, based on traditional origami designs are also from Gay Merrill Gross's book Money-Gami.
Folding the Money Origami Clothes
As you can probably tell, I've made these from $1 bills, but just about any currency will do – or a paper rectangle if you don't have any banknotes to hand.  You might struggle with the new British £5 note though as it's plastic and doesn't hold a fold very well.  It might be more hard-wearing and not need replacing so often, but it is a nightmare for origami!  As Gay Merrill Gross notes in the book, a 2:1 rectangle you can get from cutting a piece of origami paper in half will work fine, you might need to adjust where some of the folds go to get some of the proportions right. The suit is made from two bills, the money origami dress is made from a single note.
Like all of the models in the book, these his and hers money origami clothes are pretty simple to make and ideal for beginners.  No reverse folds, no complicated moves – just fold from 'here' to 'there' in each step. You can make both outfits in about five minutes each.
Money Origami Clothes Instructions
Diagrams for making money origami clothes are available in Gay Merrill Gross's book Money-Gami, which is available from Amazon.  This money origami book includes 12 easy origami designs from curriencies around the world and 50 practice play banknotes.  You can also fold your own wallet using the specially sized paper that comes with the book.
Get Involved
I'd love to hear your views on these money origami designs.  Feel free to let me know what you think in the comments below, or you find can me on Instagram or Twitter. Check out my Pinterest boards too!
You can also subscribe to the mailing list by entering your email in the box below:
Disclosure: This post contains affiliate links. This means we will receive a small commission for some purchases made using links in our blog with no additional cost to you. Please be assured we would not promote any product unless we believe that our readers will also benefit. The commission does not influence the editorial content of this site.
Origami Expressions is a participant in the Amazon Services LLC Associates Program, an affiliate advertising program designed to provide a means for sites to earn advertising fees by advertising and linking to amazon.com, amazon.co.uk, amazon.ca. Amazon and the Amazon logo are trademarks of Amazon.com, Inc. or its affiliates.