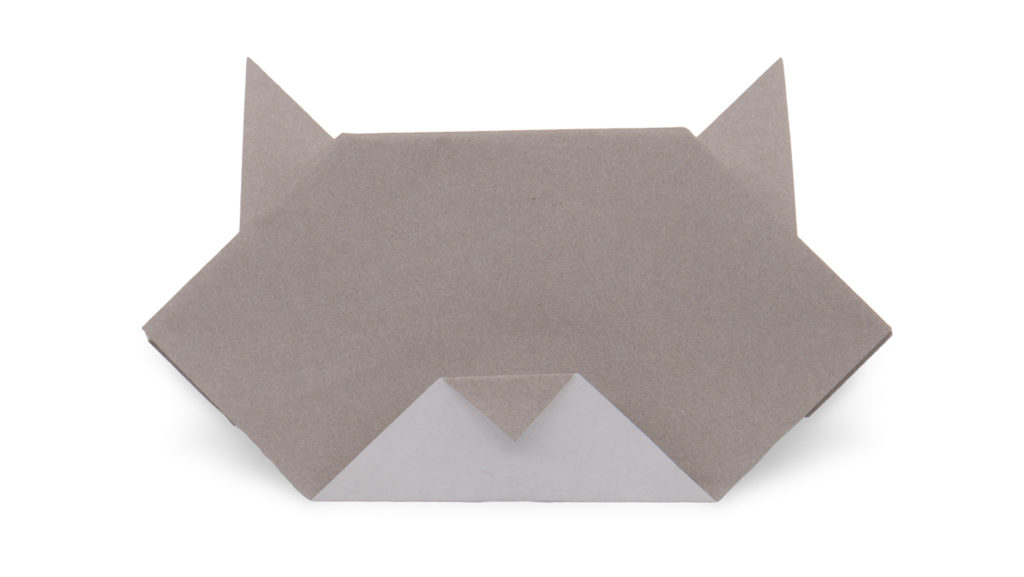 "Cats have a scam going – you buy the food, they eat the food, they go away; that's the deal"
-Eddie Izzard
Keeping Things Simple
Regular readers of this blog (I like to think there are some out there) might have noticed a trend in recent weeks. A procession of really simple origami designs that anyone can do. This traditional origami cat face is another one in that sequence. Origami does not have to be difficult. Models don't have to be intricate designs with fabulously complex folding sequences. Part of the joy of origami is in the act of folding the paper and making something, and that is accessible to everyone. That's why I wrote Origami Made Simple.
Folding the Traditional Origami Cat Face
This traditional origami cat face fits the ethos of keeping things simple. It's about the same level of difficulty as the House I posted last week, and like that model, there are no hard steps in this design. The only thing to be careful of is making sure that the ears are the same shape and height. Any paper will do, although I recommend something that is grey, black, or a brownish-red on one side and white on the other. A standard sheet of 15cm x 15cm origami paper will produce a cat face that is about 11cm (4.25in) wide and 7.5cm (3in) tall, depending on how big you make the ears. It takes less than 5 minutes to make.
If you're making this with children, you might like to draw eyes on your cat face, or get some of those stick-on googly eyes!  Get more origami for kids ideas here.
Using the Cat Face as a Mask
If you make it out of a big enough sheet of paper, you can use the cat face as a mask. Gift wrap paper works really well for this. Punch a couple of holes for the eyes and use rubber bands or string to tie round the back of the head. Because the paper will be quite thin, you might like to reinforce it with some sticky tape where you attach the string.
Where to Find the Origami Cat Face Instructions
This is one of the models in my book Origami Made Simple, which is available on Amazon from today! There are paperback and ebook versions available. The book includes 30 traditional models (including this one), and ten of my own designs (like the five-fold penguin).  Order your copy of the book Amazon US here and UK here.
Now that I've posted a series of easy models, the next blog post will be about something a little more challenging, so people new to origami can see what's possible after they get to the end of my book! Origami doesn't have to be difficult, but it can be inspiring to see what's possible.
Get Involved
I'd love to hear your views on this easy origami cat face.  You might also enjoy folding this origami cat.  Feel free to let me know what you think in the comments below, or you find can me on Instagram or Twitter. Check out my Pinterest boards too!
You can also subscribe to the mailing list by entering your email in the box below:
Disclosure:
This page contains affiliate links and I may receive some small commission for purchases made through the links on this page. This hasn't affected my decision to recommend a product – I value my personal and professional reputation and would not endorse a product or supplier I did not believe in. There is no additional cost to you for purchasing through this page.
As an Amazon Associate, I earn from qualifying purchases.  Origami Expressions is a participant in the Amazon Services LLC Associates Program, an affiliate advertising program designed to provide a means for sites to earn advertising fees by advertising and linking to amazon.com, amazon.co.uk, amazon.ca. Amazon and the Amazon logo are trademarks of Amazon.com, Inc. or its affiliates.