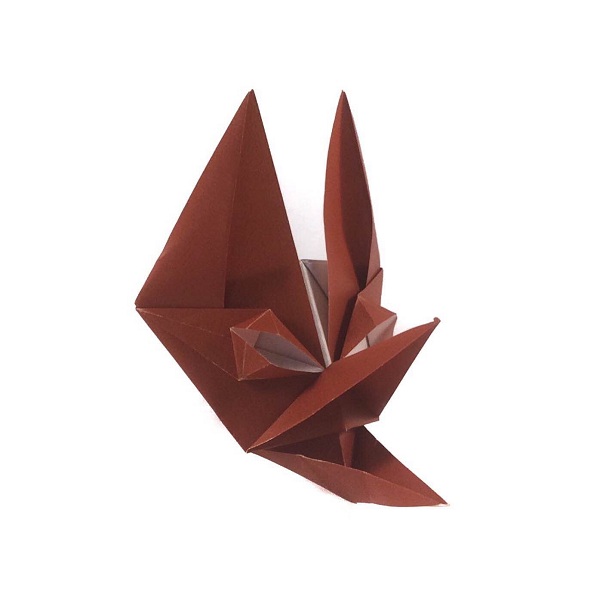 Today's model, for day 10 of World Origami Days is another mask – an Origami Fox Mask.
This is quite a simple origami fox face model. The base is slightly unusual as it is a bird base on one side and a preliminary fold on the other.  The bird base side then forms the ears, and the preliminary base becomes the face. To make this base, start with a preliminary fold. Make the bird base on one side by petal folding as usual and then stop, instead of turning the paper over and petal folding the other side to complete the bird base. That should give you enough information to have a stab at making this origami fox head model! It takes about ten minutes to make.
Note: This post contains affiliate links.  See Disclosure below for more information.
A square piece of any type of paper will do for this design, although it should ideally be brown on one side as it is supposed to be a fox, and a different colour on the back to give the eyes some contrast. I recommend ordinary 15cm x 15cm kami that is coloured on one side for this model, unless you are actually planning to use it as a mask, in which case you will need something considerably bigger!.  I'm not sure there is a lot to be gained by using expensive paper here as it is very much a representative model.  Using paper that tries to mimic a fox's coat won't really add to the finished mask, and may actually take something away from the stylised, angular design.
Origami Fox Mask Diagrams
Like the Female Demon mask I posted about before, the Origami Fox Mask is taken from the book Origami by Toyoaki Kawai.  As there is no designer listed for this model in the book, I assume it is their creation. The book is out of print, but there are a few copies on sale through Amazon for very little money.
The British Origami Society also has a copy available for loan to society members.
Difficulty: Simple
Time to fold: Ten minutes
Paper choice: Kami, coloured brown on one side
Get Involved
I'd love to hear your views on this origami fox model. Feel free to let me know what you think in the comments below, or you find can me on Instagram or Twitter. Check out my Pinterest boards too!
You can also subscribe to the mailing list by entering your email in the box below:
Disclosure: This post contains affiliate links. This means we will receive a small commission for some purchases made using links in our blog with no additional cost to you. Please be assured we would not promote any product unless we believe that our readers will also benefit. The commission does not influence the editorial content of this site.
Origami Expressions is a participant in the Amazon Services LLC Associates Program, an affiliate advertising program designed to provide a means for sites to earn advertising fees by advertising and linking to amazon.com, amazon.co.uk, amazon.ca. Amazon and the Amazon logo are trademarks of Amazon.com, Inc. or its affiliates.