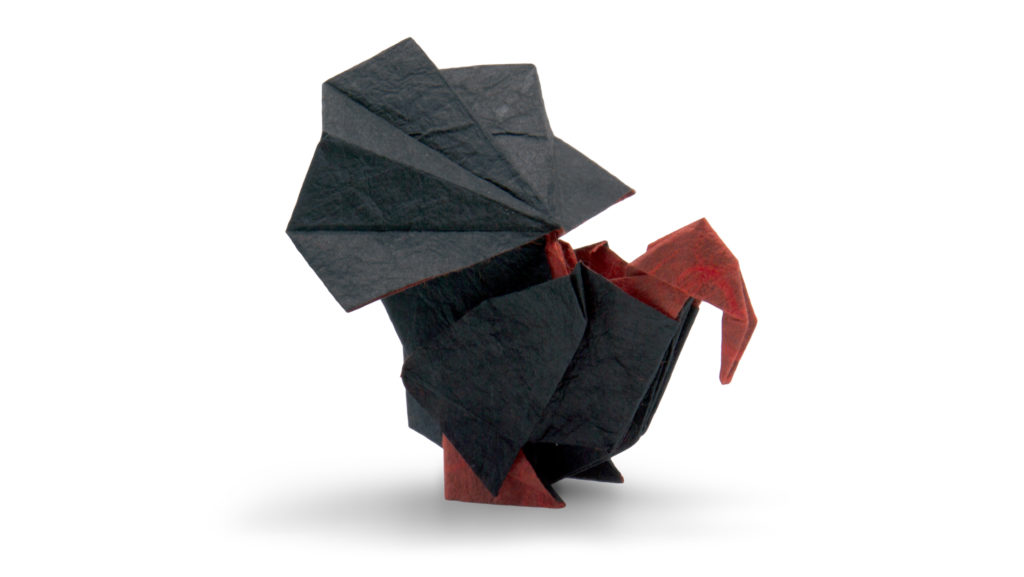 "TURKEY, n. A large bird whose flesh when eaten on certain religious anniversaries has the peculiar property of attesting piety and gratitude. Incidentally, it is pretty good eating."
-Ambrose Bierce, The Devil's Dictionary
Oh look, an origami Turkey!
Some of the models I write about here are old favourites that I come back to and share. Some of them are designs I've just come across and think 'I have to make this'. I've got a list of models I want to fold at some point, and another list of stuff that's going to end up on this blog when I get round to it. Sometimes though, I come across a design while idly flicking through my collection of origami books and think 'oh yes, I'd forgotten about that'. That's what happened last week. I stumbled across this origami Turkey by Gen Hagiwara and thought I'd give it a go.
Note: This post contains affiliate links.  Please see disclosure for more information.
I think Gen Hagiwara did a fine job with this design.  The shape of the head makes it instantly recognizable as a turkey.   While the tail is similar to the origami peacock it still works well with the model.
Yes, it's probably the perfect origami model for Thanksgiving, but I didn't feel like waiting.  Keep this post handy come November, and then make a few origami turkeys to use as table decorations.  There is also this "origami-inspired" turkey folded out of napkins, that could work well.
Folding the Origami Turkey
This is an intermediate level design. The is one open sink and one closed sink to navigate, but other than that it's not a difficult model to fold. Hagiwara recommends a 20cm square sheet of yohishi, washi, or biotope paper. I've made this one out of 24cm red and black Thai paper I picked up from Origami-shop.com here. Oddly, all the dimensions of this Turkey are the same. It is 9cm (3.5in) long, the width is similar, and the height is roughly the same as the length. There are 53 steps to this model and it took me about 20 minutes to fold.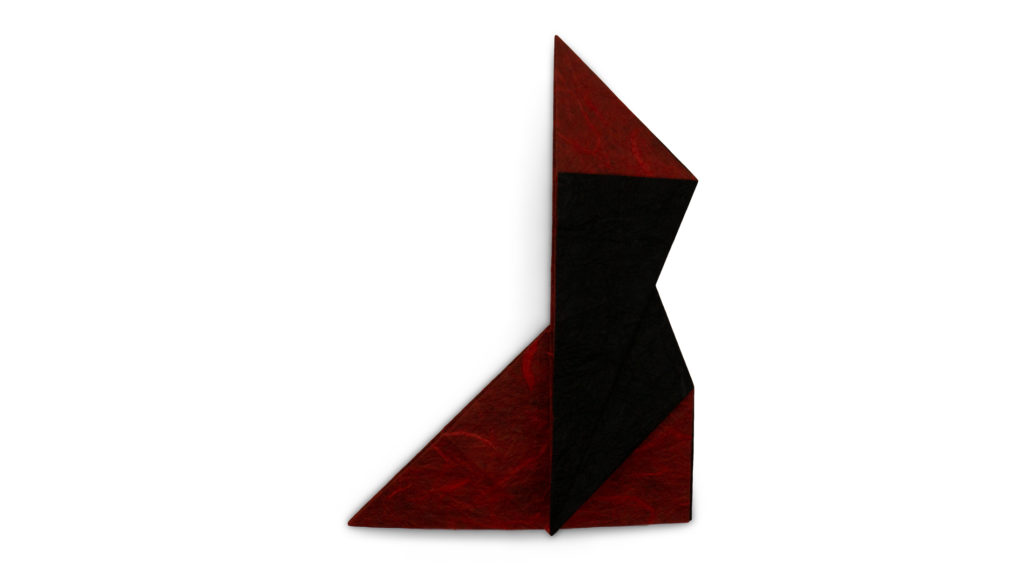 If you want to fold an easy origami turkey, try this model designed by Margaret Van Sicklen.
Diagrams for Gen Hagiwara's Turkey
The instructions for this origami Turkey are in Gen Hagiwara's book Spirits of Origami, which is available from Origami-shop.com here. I've folded several models from this book now (including a snake and several kangaroos) and I have to say I've enjoyed it. The models are varied, the diagrams are clear and the folding sequences are logical and easy to understand. There are a few more in this book that I'll get around eventually. Possibly next time I'm browsing through my origami books, looking for some inspiration.
Get Involved
I'd love to hear your views on this 3D origami turkey.  Feel free to let me know what you think in the comments below, or you find can me on Instagram or Twitter. Check out my Pinterest boards too!
You can also subscribe to the mailing list by entering your email in the box below:
Disclosure:
This page contains affiliate links and I may receive some small commission for purchases made through the links on this page. This hasn't affected my decision to recommend a product – I value my personal and professional reputation and would not endorse a product or supplier I did not believe in. There is no additional cost to you for purchasing through this page.
As an Amazon Associate, I earn from qualifying purchases.  Origami Expressions is a participant in the Amazon Services LLC Associates Program, an affiliate advertising program designed to provide a means for sites to earn advertising fees by advertising and linking to amazon.com, amazon.co.uk, amazon.ca. Amazon and the Amazon logo are trademarks of Amazon.com, Inc. or its affiliates.