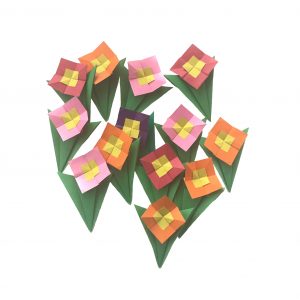 Ring a ring o' roses
A pocket full of posies
Traditional Nursery Rhyme
About the Origami Pocket Posy
Every now and again you come across an origami model that uses some of the most basic folding sequences structures in a way you've not thought about before.  These are the ones that show you that there is always something to be discovered and that origami designs don't have to be complicated to be stunning.
Note: This post contains affiliate links.  See disclosure below for more information.
This model, the Pocket Posy designed by Gay Merrill Gross is definitely one of these.  It is incredibly simple to make! This is one that children can make in as little as five minutes. This is not the first model by Gay Merrill Gross that has been featured on this blog. I've also featured a Money Origami Mandarin Duck, His and Hers Money Origami Clothes, and an Origami Slinky.
Folding the Origami Pocket Posy
You need either two or three pieces of paper to make this design, depending on whether you want to include the central part of the flower.  If you use patterned paper for the flower petals, you probably don't need the centre section.  Use paper that is 7.5cm x 7.5cm (3in x 3in) to make the flower petals and another the same size for the leaves & stem. If you do want to include the centre part of the flower, use a piece of paper ¼ of the size. You can buy 7.5cm origami paper from Amazon that will do just fine.
I said above that this model uses a familiar folding sequence. The flower is basically an opened out preliminary base! If you want to include the centre of the flower, fold another one out of the smaller square and slot it in the open top.
The OrigamiUSA Holiday Tree
Every year, OrigamiUSA decorates a Holiday Tree at the American Museum of Natural History in New York, as a thank-you to the museum for the office space they use at the museum. This is the most popular tree in New York after the tree at the Rockerfeller Center.  Click here for my review of the 2015 OrigamiUSA Holiday Tree.  OrigamiUSA gives away a model to people that attend the lighting ceremony, and this year's Holiday Gift is this Pocket Posy! They are looking for people to fold a Pocket Posy and send it back to them to arrive no later than 20 October 2017. These need to be packed carefully and send to:
OrigamiUSA
15 West 77th Street
New York, NY 10024
If you are planning to send some origami Pocket Posies to OrigamiUSA, please note their guidelines:
Please do not send models other than the Pocket Posy by Gay Merrill Gross
Use only 3 inch paper (the gift packaging has size limitations)
Use 3-inch patterned or solid color paper for the flower
Use 3-inch green paper for the leaf/stem
Creating a center for the flower from a 1.5-inch paper is OPTIONAL.
Do not draw on or embellish the model in any way
Origami Pocket Posy Instructions
Diagrams for the Pocket Posy are available on the OrigamiUSA website.
Get Involved
I'd love to hear your views on this origami model.  Feel free to let me know what you think in the comments below, or you find can me on Instagram or Twitter. Check out my Pinterest boards too!
You can also subscribe to the mailing list by entering your email in the box below:
Disclosure: This post contains affiliate links. This means we will receive a small commission for some purchases made using links in our blog with no additional cost to you. Please be assured we would not promote any product unless we believe that our readers will also benefit. The commission does not influence the editorial content of this site.
As an Amazon Associate, I earn from qualifying purchases.  Origami Expressions is a participant in the Amazon Services LLC Associates Program, an affiliate advertising program designed to provide a means for sites to earn advertising fees by advertising and linking to amazon.com, amazon.co.uk, amazon.ca. Amazon and the Amazon logo are trademarks of Amazon.com, Inc. or its affiliates.