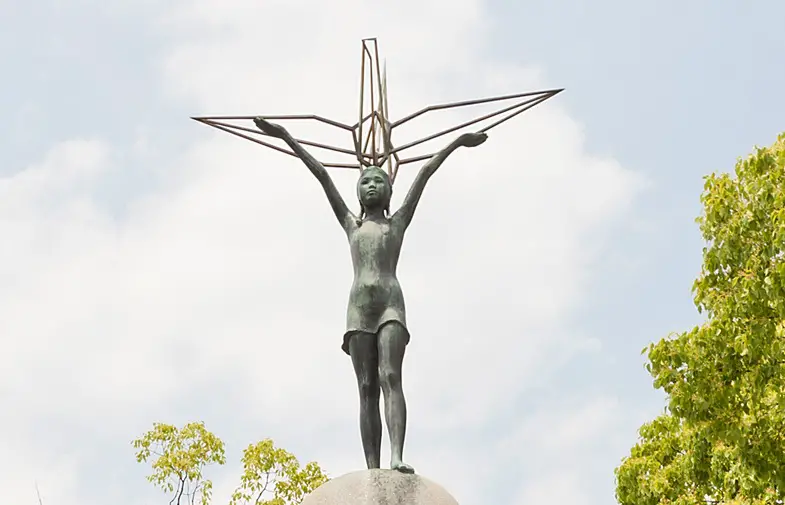 Sadako taught us one thing. The first step to achieve peace in our hearts is to have compassion, selflessness and thoughtfulness towards people around us.
Masahiro Sasaki, Sadako's older brother.
Today is the last day of World Origami Days 2015, and Origami Day in Japan. It seems an appropriate time to tell the story of one of the most significant figures in Origami, and certainly the most inspirational: Sadako Sasaki. There are several different accounts, but this is as close as I've been able to get to the truth based on the differing interpretations I've read.
Note: This post contains affiliate links.  See Disclosure below for more information.
The Story of Sadako Sasaki
Sadako Sasaki was two years old when the bomb was dropped on her hometown of Hiroshima, about two kilometres from where she lived with her family.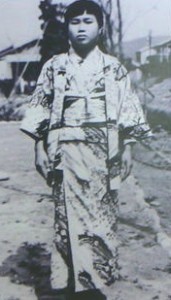 She survived, although her Grandmother did not. With the end of the war, she and the rest of the inhabitants of Hiroshima started to rebuild their city and their lives.
At school, she was particularly fond of athletics, and became quite a strong runner.  One day in 1954 she felt dizzy after an important race. The dizziness didn't last and she just put it down to tiredness.  She continued to have occasional dizzy spells, but thought nothing of them.  Then, one day the following year she felt particularly dizzy and collapsed, unable to stand.
Sadako Sasaki in the Hospital
She was taken to the Red Cross Hospital where she was carefully examined and a sample of her blood taken.  Sadako was diagnosed with what her and her friends knew as 'atom bomb disease' – Leukemia. She was given less than a year to live. Sadako and her family were devastated.
Sadako's school friend, Chizuko Hamamoto, came to visit her in hospital and brought some gold coloured paper.  Chizuko reminded Sadako of the Japanese legend that promised anyone that folded 1000 cranes would be granted the gift of long life.  In case Sadako had forgotten how, Chizuko cut out a square and folded her a traditional origami crane.  After Chizuko left, Sadako started to fold cranes.  As paper was in short supply at that time, Sadako folded anything she could get her hands on, including medicine wrappers provided by the nurses and the other patients in the hospital.  As she folded each crane, she wished for her recovery. Her brother and the nurses hung the cranes around her bed.
Sadako's Prayer
As the months went by, Sadako slowly began to accept that most people around her in the hospital did not recover. The end was the same – they died from their illness, and in all probability that would be her fate as well.  She changed her prayer, first for the recovery of anyone who was sick like her, then for everyone in the world.  She wished that mankind would learn to live in peace.  As she folded each crane she would say to it I will write peace on your wings and you will fly all over the World. [clickToTweet tweet="I will write peace on your wings and you will fly all over the World.- Sadako Sasaki" quote="I will write peace on your wings and you will fly all over the World. – Sadako Sasaki"]
As Sadako's health deteriorated, she carried on folding cranes, even though it was getting harder and harder. She was very weak and her family was concerned the effort would make her health worse.  October 25, 1955, at her family's insistence that she ate something, she had tea and rice, said 'it's good' and died.  She was only 12 years old.
After her death, her friends and classmates wanted to do something to remember their friend and her wish for peace.  They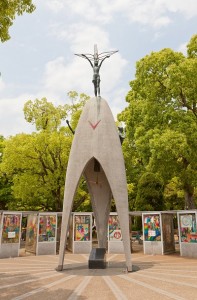 decided to raise money for a monument to her and all the children that had died from the effects of the atom bomb.  Sadako's classmates published the letters they had sent and received from Sadako in a book called Kokeshi – named after Sadako's favourite traditional Japanese dolls.  They also wrote to other schools to tell them about their campaign and soon this became a national effort.
The fund-raising was successful and three years after Sadako's death the Children's Peace Monument was erected in Hiroshima Peace Park.  It still stands today. On the top is a Sadako statue holding a wireframe origami crane.  The inscription at the bottom reads "This is our wish, this is our cry.  Peace in the world".
Sadako Sasaki's Legacy
Accounts differ about how many cranes Sadako actually folded.  The book Sadako and the Thousand Paper Cranes, written by Eleanor Coerr says she only managed 644, that her classmates made the other 356 and she was buried with them. The reality is that no-one really knows for a fact how many cranes she folded, but she did achieve her goal of 1000 cranes and folded hundreds more.
In the end, it doesn't matter how many cranes she made. What matters is her legacy. Today, the name of Sadako Sasaki is known across the world as a symbol of the tragic effects of war.  The traditional origami crane has become synonymous with good luck and world peace as much as the legend of long life.  Every year, ten million cranes are sent to Japan to be displayed at Sadako's statue.
Another Sadako statue designed by Daryl Smith, a life-size model of her stands in Seattle Peace Park. This is often covered in paper cranes. Sadako's brother, Masahiro Sasaki, kept some of her cranes with a view to donating them to organisations and places that signify the movement for peace.  One has since been given to the Tribute World Trade Centre Visitor Center in New York.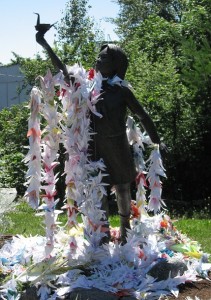 If you've never folded an origami crane before, you can find the instructions for the traditional crane here.  When you have done it – that's one.  999 to go.
RIP Sadako Sasaki

——
Attributions:
Picture of Sadako Sasaki: Photographer unknown.  Copyright expired, photo in public domain.
Pictures of the International Children's Memorial: Stock photo – Joymsk140 / Shutterstock.com
Picture of Daryl Smith's statue of Sadako in Seattle: "Origami (2)" by Lisa Norwood from Portland, OR, USA – A zillion origami cranes for peace. Licensed under CC BY 2.0 via Wikimedia Commons – https://commons.wikimedia.org/wiki/File:Origami_(2).jpg#/media/File:Origami_(2).jpg
Get Involved
I'd love to hear your views on this. Feel free to let me know what you think in the comments below, or you find can me on Instagram or Twitter. Check out my Pinterest boards too!
You can also subscribe to the mailing list by entering your email in the box below:
Disclosure: This post contains affiliate links. This means we will receive a small commission for some purchases made using links in our blog with no additional cost to you. Please be assured we would not promote any product unless we believe that our readers will also benefit. The commission does not influence the editorial content of this site.
Origami Expressions is a participant in the Amazon Services LLC Associates Program, an affiliate advertising program designed to provide a means for sites to earn advertising fees by advertising and linking to amazon.com, amazon.co.uk, amazon.ca. Amazon and the Amazon logo are trademarks of Amazon.com, Inc. or its affiliates.