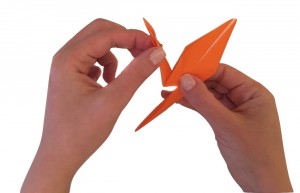 `Begin at the beginning,' the King said gravely, `and go on till you come to the end: then stop.'
Lewis Carroll, Alice in Wonderland
New to origami? Just starting out?
Want to fold your first model or looking for something about the same level of difficulty? This page is for you! Welcome to the Origami for Beginners Gallery. All the models listed here have been featured on Origami Expressions and are suitable for people just starting out in origami or folding their first few models.
Opinions vary about what is considered to be suitable for people new to origami. As a guide, I have considered 'beginner' models to be those up to and including the traditional origami crane. They include valley folds and mountain folds, and maybe the odd reverse fold just to stretch you a little bit!  Crimps, sinks and other more complex manoeuvres are not included.
Diagrams or video tutorials for each design in the Origami for Beginners Gallery are provided on the blog page for each design – if it is a traditional model or I have permission to post them.  Otherwise, information on where to get diagrams is provided.  You can also find the instructions for many beginner origami models in my book, Origami Made Simple.
Once you have mastered these, you can start folding some intermediate level models.
The Origami for Beginners Gallery